FX Quest Forex Price Analysis
TraderMade's FXQuest price discovery platform harnesses over 40 years of market data to reveal precise Spot Pricing to the end-user.
Request Free Trial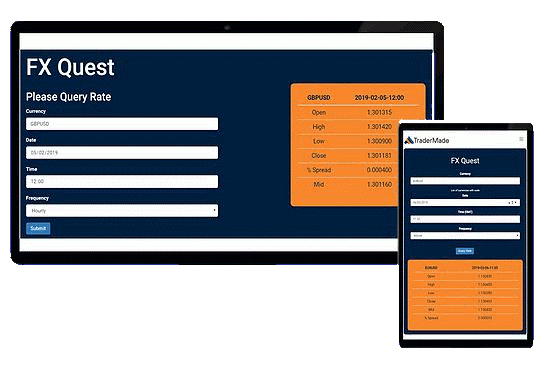 Leveraging data compiled from the top market makers around the globe - the pricing platform's technology can pinpoint to-the-minute currency rates in over 40+ currencies, providing the most robust information discovery and validation solution in the foreign exchange industry.
Who Uses FX Quest?
Central Banks, Asset Managers, Banks, Physical Delivery Brokers, Wealth Managers, Auditors, Fund Managers, Treasurers, Payment processing, FX Broker Dealers, Custodians & Regulators.
Features of FX Quest:
With Fx Quest you can interrogate the TraderMade database for up to 40+ Currencies for daily, hourly & minute data. Users can verify a FX Price on a given day, hour, minute, and second with CSV upload functionality available for multiple queries at once.
Post-Trade Analysis
Our extensive post-trade transaction cost analysis (TCA) enables you to benchmark your activity against your peers.
Available Price Data
Daily, hourly and minute data available from 1985 & tick data available from 1st December 2015.
Current Users
Central Banks, Asset Managers, Banks, Physical Delivery Brokers, Wealth Managers, Auditors, Fund Managers, Treasurers, Payment processing, FX Broker Dealers, Custodians & Regulators.
Data Sources
Data drawn from 60 plus liquidity price makers via an aggregator. Data sources are obtained from Mid/Large tier banks & data providers.
FX Tick Data
Bid /Ask tick data also available in 54 currency pairs for validation/verification purposes back to 1st December 2015.
Easy to Use Functionality
State of the art technology and GUI interface are implemented to give you clear and concise results. Results are given in Open, High, Low, Close, % Spread & Mid format and is mobile friendly.
FX Traders & Regulators
Traders can validate a rate received from a chosen (or many) liquidity provider(s), regulators or reporting authorities can obtain an independent and objective view of the market at an historic moment in time.
Risk Management
Treasurers, Risk & Compliance teams can obtain a fair and accurate rate for valuations to assess risk, therefore any institution using a benchmark can use FXQuest as part of their execution strategy.
Fund Managers
Fund Managers can obtain a price to use for assessment of performance or for determining asset allocations. Custodians, Fund Administrators, Auditors or Fund Accountants can ascertain a fair and accurate price to use for mark-to-market or fund valuation purposes.
FX Deliverable & Payments
FXQuest is also suitable for FX Deliverable & Payment companies. FX Dealers are continually asked to verify previously traded rates from their clients, therefore our one-stop price verification hub makes this process quick and cost-efficient.
Access to TraderMade's historical database of Foreign Exchange prices means that clients can reclaim previously executed rates for reporting and validating purposes. With the increasing regulatory environment, FXQuest provides a fundamental service that augments transparency and trust between suppliers and consumers of forex pricing data.
The introduction of the 'Markets in Financial Instruments Directive' (MiFID II) regulatory changes impact on all businesses that are involved in the distribution and trading of financial instruments in the EU and represents a major change and overhaul of previous laws. The updated legislation has several core objectives including (a) increased investor protection; (b) alignment of regulation across the EU in certain areas; (c) increased competition across the financial markets; and (d) introduction of reinforced supervisory powers. TraderMade's cross-industry cost-efficient and intuitive solution makes requesting and interrogating FX rates easy and cost-efficient.
Frequently Asked Questions