AUD and NZD down, Sterling Up, Here's Why
Updated 09:44AM 16/12/2019
GBP and SEK are the top G10 FX gainers today, up 0.22% and 0.19% vs the dollar while AUD and JPY are the top losers, down -0.09% and -0.08% vs the dollar. 
The pound to dollar rate was buoyant as significant Election victory for the Conservative Party has raised hopes that Britain will leave the EU on the 31st of January. PM Boris Johnson will push for a vote in the parliament to deliver a Brexit deal which is likely to help Sterling further. 
Risk-averse currencies such as the AUD and NZD fell as positive sentiments on the U.S.-China trade agreement last week deteriorated on Monday amid a lack of details on the agreement. deal. 
Elsewhere, Eurozone growth remained weak with a contraction seen in manufacturing. We may see Euro to dollar rate remaining largely flat as we head into the year-end. 
In the Asian equities space, the Nikkei 225 closed -0.29% lower at 23,952.35, Hang Seng closed -0.65% at 27508.09 and Kospi ended -0.1% at 2168.15. The European equities were trading firm with the FTSE up +1.56% at 7468.38, DAX up +0.58% at 13359.9, and CAC up +0.77% at 5964.78. In the rates market, global yields were trading mixed; the US 10-year yield was trading at 1.84% and the Bund 10-year yield trading at -0.301%. In the energy space, the Brent (front month) is trading up (0.06%) for the day at $65.26.
Daily Pivots for Key Currency Pairs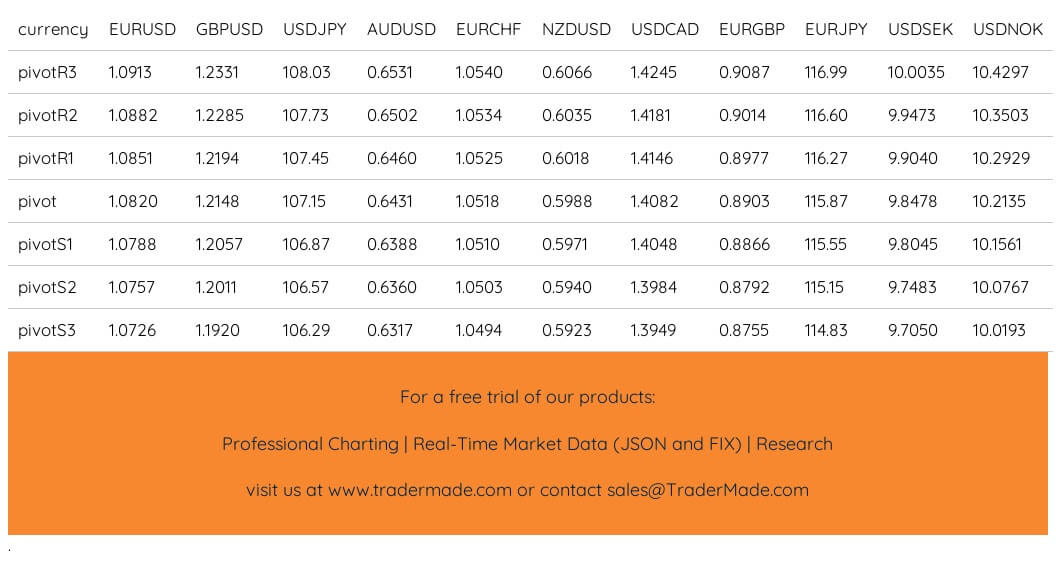 Economic Calendar
10-year Yields Chart (6-month)
Brent Front Month Daily Chart (6-month)
USD-Index Daily Chart (6-month)
Major Currency Pairs
EURUSD Chart (Two-week)
Strategy: Resistance at 1.1167 for 1.1068
Short-term view: EUR/USD resistance at 1.1167, MACD and RSI are weak. Hence, we see a move to 1.1100, likely 1.1068. Above 1.1167 to open 1.1200.
GBPUSD Chart (Two-week)
Strategy: Resistance at 1.3424, for 1.3296
Short-term view: GBP/USD resistance at 1.3424, MACD and RSI are weak. Hence, we expect a dip to 1.3296. Above 1.3424 to open 1.3487.
USDJPY Chart (Two-week)
Strategy: Resistance at 110.00 for 109.00
Short-term view: USD/JPY resistance at 110.00, RSI and MACD are topping out. A move lower to 109.00 is likely. Above 110.00 to open 110.67
AUDUSD Chart (Two-week)
Strategy: Support at 0.6862 for 0.6920
Short-term view: AUD/USD MACD and RSI are giving mixed signals and support at 0.6862. A move towards 0.6920 is likely. Below 0.6862 to open 0.6836.