Chinese Yuan Lows & Brexit Developments


FX Strategy 27 Aug 19
SEK and JPY are the top G10 FX gainers today, up 0.39% and 0.34% vs the dollar while NZD and AUD are the top losers, down -0.41% and -0.35% vs the dollar.
Japanese yen was up as investors fled to safe havens amid U.S.-China trade wars worries. There are concerns that trade wars may escalate as both sides announced new tariffs. The Chinese Yuan was trading near 11-1/2 year lows.
Sterling caught a bid in early hours of trading as investors took in latest developments on Brexit; PM Boris Johnson said he was prepared to take Brexit talks to the last minute. Although the British pound is still off its recent highs, large short positions against the currency makes the positions vulnerable to a squeeze. In the Asian equities space, the Nikkei 225 closed up 0.96% at 20,456.08, Hang Seng closed -0.06% at 25664.07 and Kospi ended 0.43% at 1924.6. The European equities were trading weaker with the FTSE down -0.56% at 7055.06, DAX down -0.2% at 11634.94, and CAC down -0.35% at 5332.18. In the rates market, global yields were trading mixed; the US 10-year yield was trading at 1.5165% and the Bund 10-year yield trading at -0.668%. In the energy space, the Brent (front month) is trading up (0.55%) for the day at $59.02.
Free Forex portal at https://research.tradermade.com/ Features live Quotes Board, Intra-day Analysis for more than 20+ forex pairs, Movements v USD, Candlestick Pattern Recognition, Market High/Low Alerts, Custom RSS News Feed.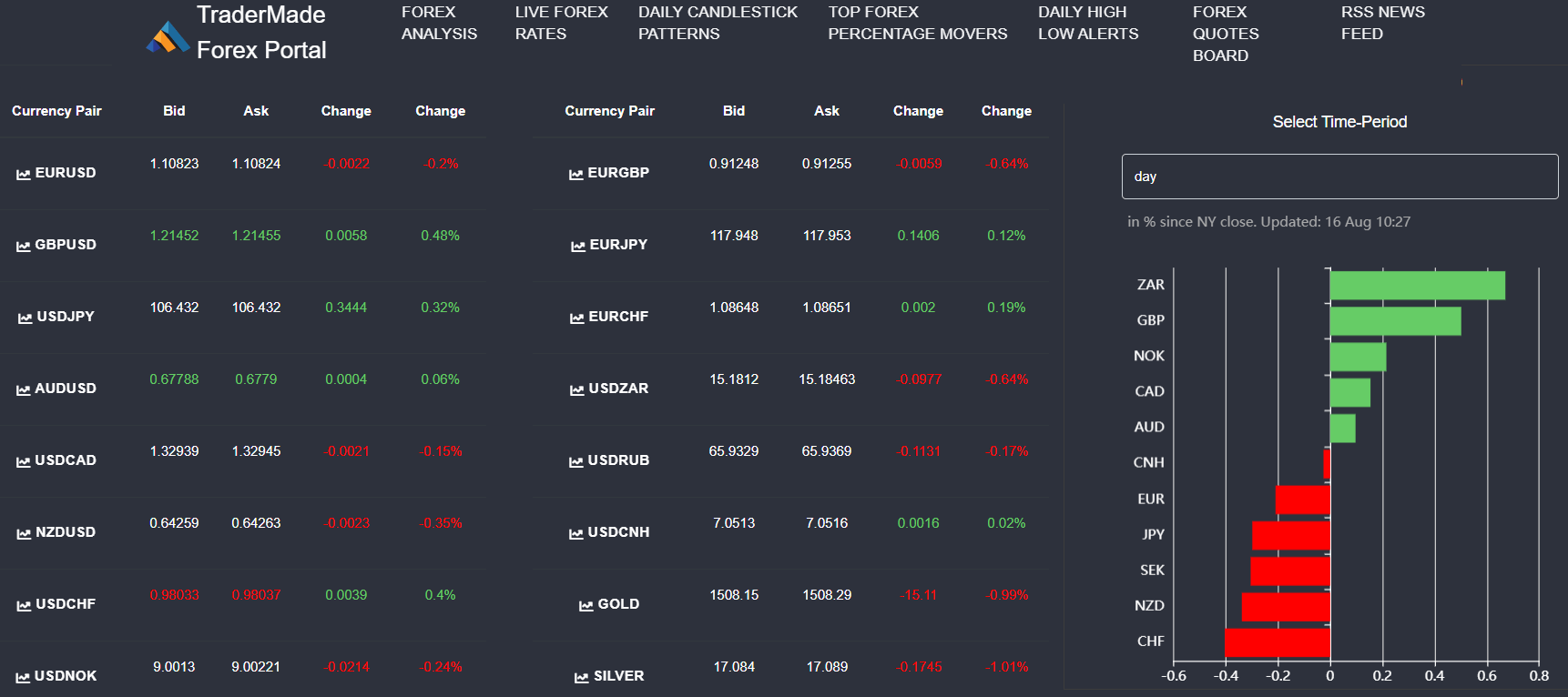 Daily Pivots for Key Currency Pairs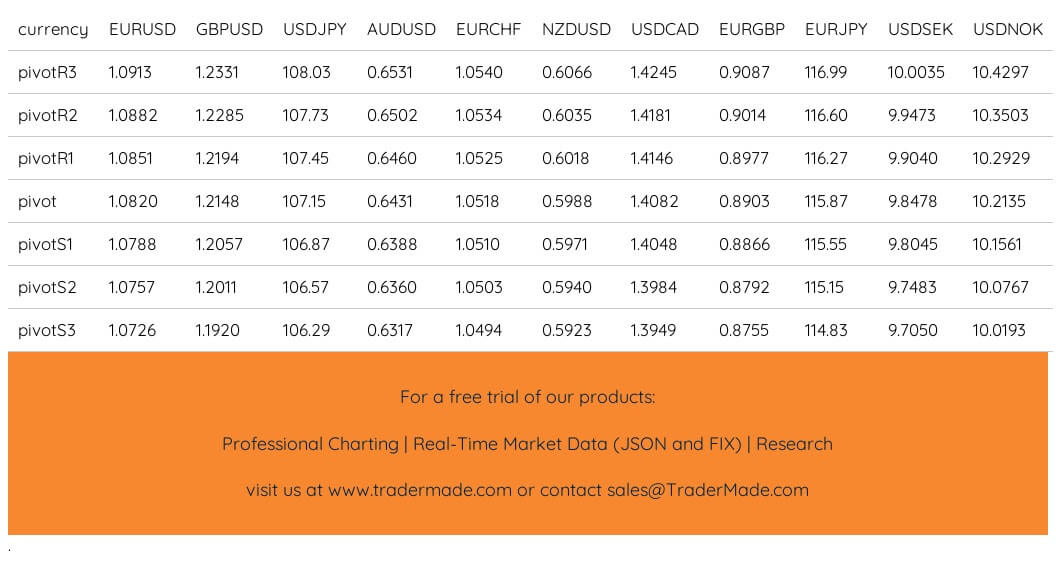 Economic Calendar
10-year Yields Chart (6-month)
USD-Index Daily Chart (6-month)
Brent Front Month Daily Chart (6-month)
Trade Weighted Basket Hourly (two-week)
Major Currency Pairs
EURUSD Chart (Two-week)
Strategy: Support at 1.1062 for 1.1167
Short-term view: EUR/USD support at 1.1062, MACD and RSI are giving mixed signals Hence, we see a move to 1.1167, possibly 1.1200. Below 1.1062 to open 1.1019, likely 1.0950
GBPUSD Chart (Two-week)
Strategy: Resistance at 1.2265 for 1.2141
Short-term view: GBP/USD resistance at 1.2265, MACD and RSI are weak hence, we see a dip to 1.2190, likely 1.2141. Above 1.2265 to open 1.2306.
USDJPY Chart (Two-week)
Strategy: Resistance at 106.30 for 105.03
Short-term view: USD/JPY has resistance around 106.30 MACD and RSI are giving mixed signals, hence, we see a move lower to 105.03 and 104.29. Above 106.30 opens 106.65-107.05
AUDUSD Chart (Two-week)
Strategy: Resistance at 0.6800 for 0.6725
Short-term view: AUD/USD MACD and RSI are giving mixed signals, we look for resistance at 0.6800 for a move lower towards 0.6725, likely 0.6650. Above 0.6800 we look for 0.6830-0.6869 in the immediate short-term.