Coronavirus Fears to Weigh on Risky Currencies
Updated 10:25AM 21/02/2020
JPY and GBP are the top G10 FX gainers today, up 0.38% and 0.3% vs the dollar while AUD and NZD are the top losers, down -0.35% and -0.32% vs the dollar. Stocks were headed for the worst week in over a month on Coronavirus fears. Oil also fell on concerns over economic slowdown from virus fears; the Brent (front month) was trading down (-1.92%) for the day at $58.17.
Riskier currencies also fell and we may see this continue until coronavirus cases drop; South Korea has so far reported over 200 cases which further raises concerns over a further spread globally. Elsewhere, Sterling was up against the dollar and euro after UK PMI showed the fastest rise in activity in over 10 months.
In the Asian equities space, the Nikkei 225 closed -0.39% lower at 23,386.74, Hang Seng closed -1.09% at 27308.81 and Kospi ended -1.49% at 2162.84. The European equities were trading weaker with the FTSE down -0.63% at 7390.07, DAX down -0.26% at 13628.45, and CAC down -0.52% at 6030.48. In the rates market, global yields were trading weaker; the US 10-year yield was trading at 1.4814% and the Bund 10-year yield trading at -0.447%.
Economic Calendar
10-year Yields Daily Chart (6-month)
Daily FX Pivots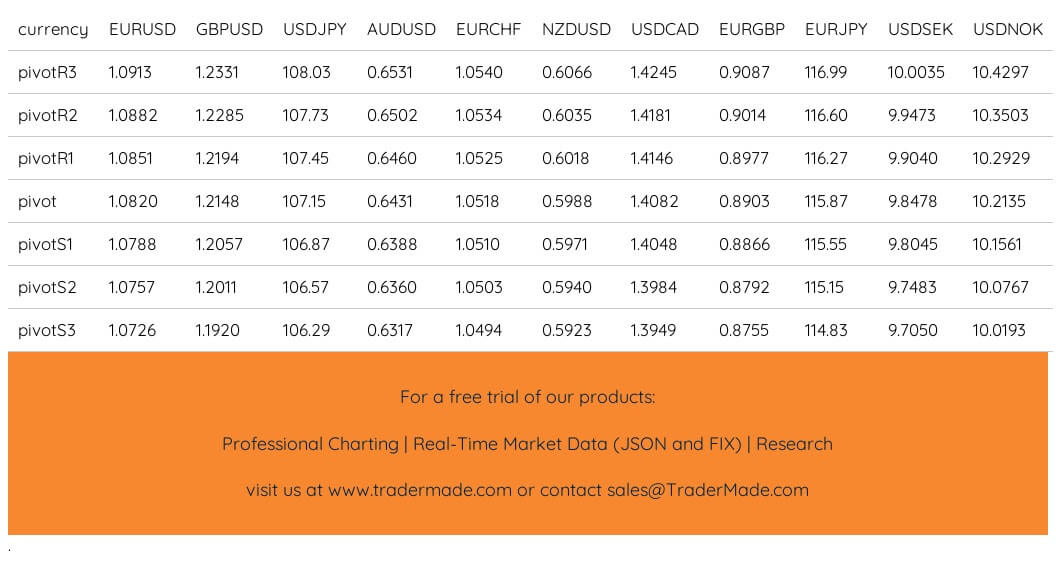 Brent Crude Daily Chart (1-month)
Forex Chart and Technical Analysis
EURUSD Chart (Two-week)
Strategy: Resistance at 1.0825 for 1.0858
Short-term view: EUR/USD resistance comes in at 1.0825, MACD suggests a bearish bias and RSI lacks upside momentum. Hence we see a downside to 1.0719. Above 1.0825 to open 1.0858
GBPUSD Chart (Two-week)
Strategy: Resistance at 1.2925 for 1.2845
Short-term view: GBP/USD resistance comes in at 1.2925, MACD below zero and RSI is below 50. Hence we see a downside to 1.2845. Above 1.2925 to open 1.2967
USDJPY Chart (Two-week)
Strategy: Support at 110.94 for 112.69
Short-term view: USD/JPY support comes in at 110.94, MACD crossover suggests a bullish bias and RSI is above 50. Hence we see an upside to 112.69. Below 110.94 to open 110.28
AUDUSD Chart (Two-week)
Strategy: Resistance at 0.6641 for 0.6495
Short-term view: AUDUSD resistance comes in at 0.6641, MACD crossover suggests a bearish bias and RSI is below 50. Hence we see a downside to 0.6495. Above 0.6641 to open 0.6672