Crude Oil Making Financial Markets Nervous
Updated 10:37AM 22/04/2020
In the G10 FX Market, AUD and CAD are the top gainers today, up 0.92% and 0.41% versus the dollar while EUR and USD are the top losers. The dollar and yen remained strong in early hours of European trading session after oil prices fell again. Brent crude fell to its lowest levels since 1999, keeping a bid for safe-haven currencies alive even as markets stabilised.
In our view, the markets are likely to stabilise further if countries who have lifted lockdown continue to see some form of economic activity amid Coronavirus pandemic. That said, further fall in oil prices could unnerve markets and push flows into safe havens in the short-term
In the rates market, global yields were trading stronger with the US 10-year yield up +2.2bp trading at 0.588 and the German 10-year yield up 1.5bp trading around -0.46. In the Asian Session, Equities markets were trading mixed with S&P 500 futures 1.1% at 2762.12, the Nikkei -0.8% at 19127.0, and the Hang Seng 0.29% at 23861.75 In the energy space, the Brent (front month) is trading down (-9.73%) for the day at $17.45.
10-year Yields Daily Chart (6-month)
Daily FX Pivots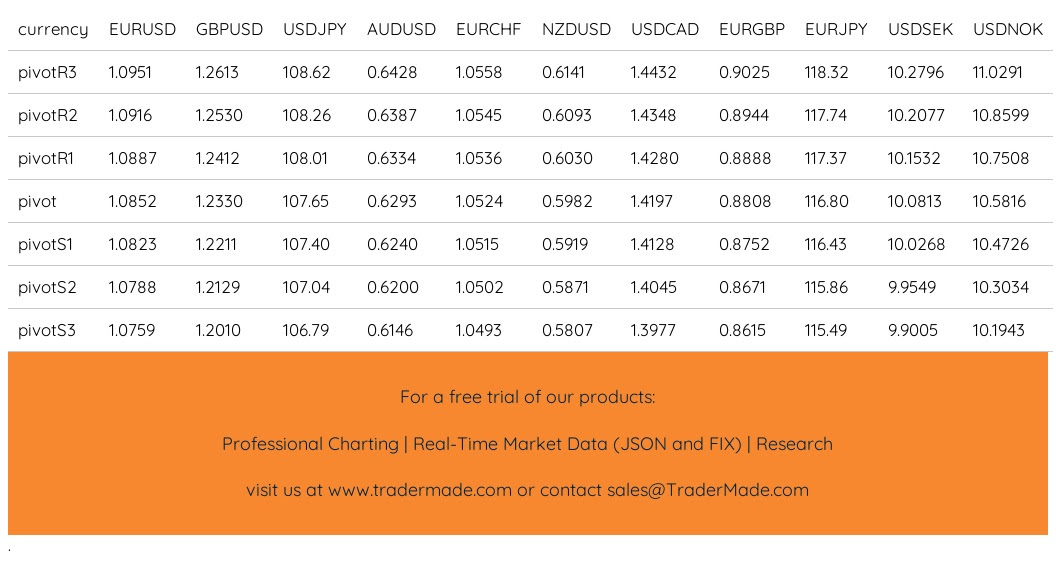 Brent Crude Daily Chart (1-month)
Forex Chart and Technical Analysis
EURUSD Chart (Two-week)
Strategy: Support at 1.0823 for 1.0887
Short-term view: EUR/USD support comes in at 1.0823 MACD and RSI have a bullish bias. Hence, we see a bounce to 1.0887 enter at 1.0844. Below 1.0823 to open 1.0788
GBPUSD Chart (Two-week)
Strategy: Resistance at 1.2412 for 1.2211
Short-term view: GBP/USD resistance comes in at 1.2412 MACD and RSI have a bearish bias. Hence, we see a dip to 1.2211 enter at 1.2346. Above 1.2412 to open 1.253
USDJPY Chart (Two-week)
Strategy: Support at 107.4 for 108.01
Short-term view: USD/JPY support comes in at 107.4 MACD and RSI have a bullish bias. Hence, we see a bounce to 108.01 enter at 107.6. Below 107.4 to open 107.04
AUDUSD Chart (Two-week)
Strategy: Support at 0.6293 for 0.6387
Short-term view: AUDUSD support comes in at 0.6293 MACD and RSI have a bullish bias. Hence, we see a bounce to 0.6387 enter at 0.6324. Below 0.6293 to open 0.624