Demand For Save Haven Currencies & NZD/AUD Vulnerable Amid Decline In Global Yields
Created 08/13/2019 at 09:28AM
FX Strategy 13 Aug 19
AUD and NZD are the top G10 FX gainers today, up 0.21% and 0.06% vs the dollar while CHF and EUR are the top losers, down -0.29% and -0.19% vs the dollar. Demand for safe-haven currencies continued as investors remained worried that U.S. China trade wars may escalate further. Swiss Franc(CHF) hit a two year high versus the EUR and Japenese Yen (JPY) was also trading near 7-month highs against the dollar. In our view, risk sentiments are likely to worsen with NZD and AUD the most vulnerable amid a decline in global yields. Yields on the Australian 10-year reached a historic low at 0.916%, further below the 1% cash rate. In the Asian equities space, the Nikkei 225 closed -1.11% down at 20,455.44, Hang Seng closed -2.1% at 25281.3 and Kospi ended -0.85% at 1925.83. The European equities were trading weaker with the FTSE down -0.26% at 7207.79, DAX down -0.43% at 11629.46, and CAC down -0.28% at 5295.29. In the rates market, global yields were trading mixed; the US 10-year yield was trading at 1.6488% and the Bund 10-year yield trading at -0.608%. In the energy space, the Brent (front month) is trading up (0.12%) for the day at $58.64.
New Free Forex portal at https://research.tradermade.com/ Features live Quotes Board, Movements v USD, Candlestick Pattern Recognition, Market High/Low Alerts, Bespoke News Feed and Currency Analysis.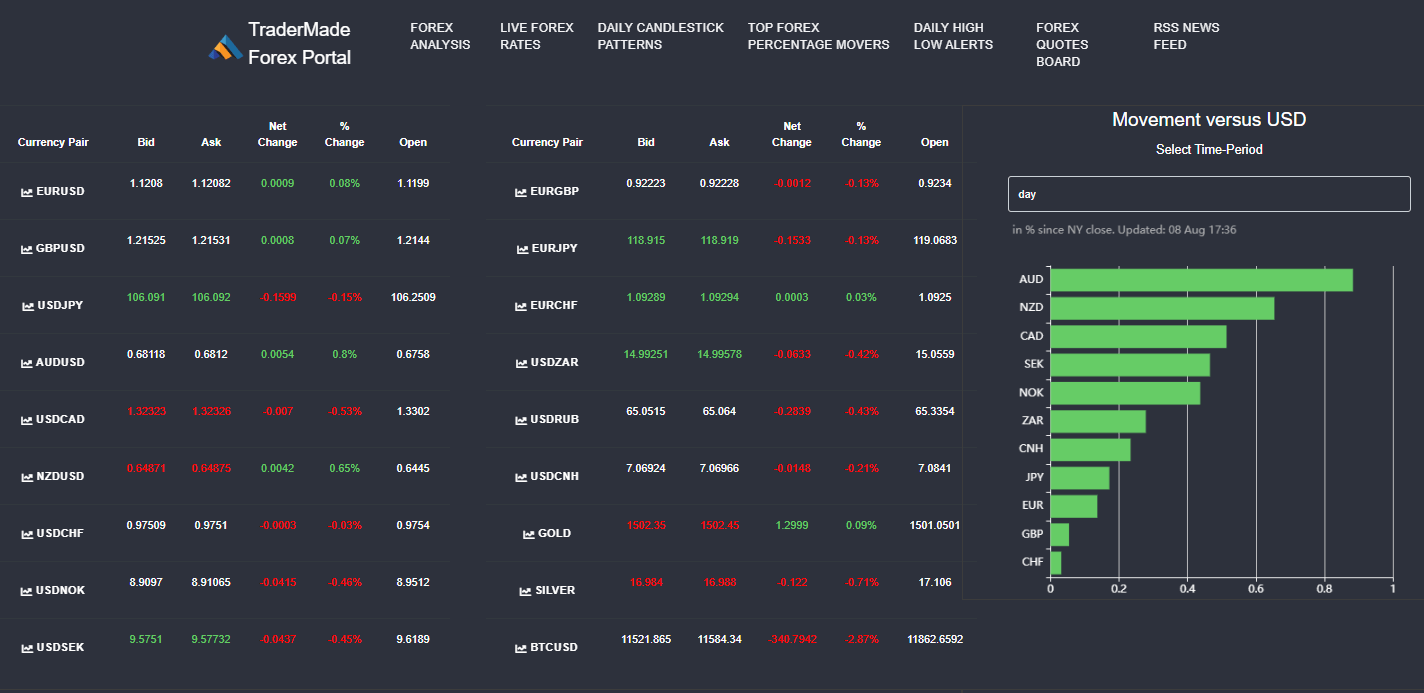 Daily Pivots for Key Currency Pairs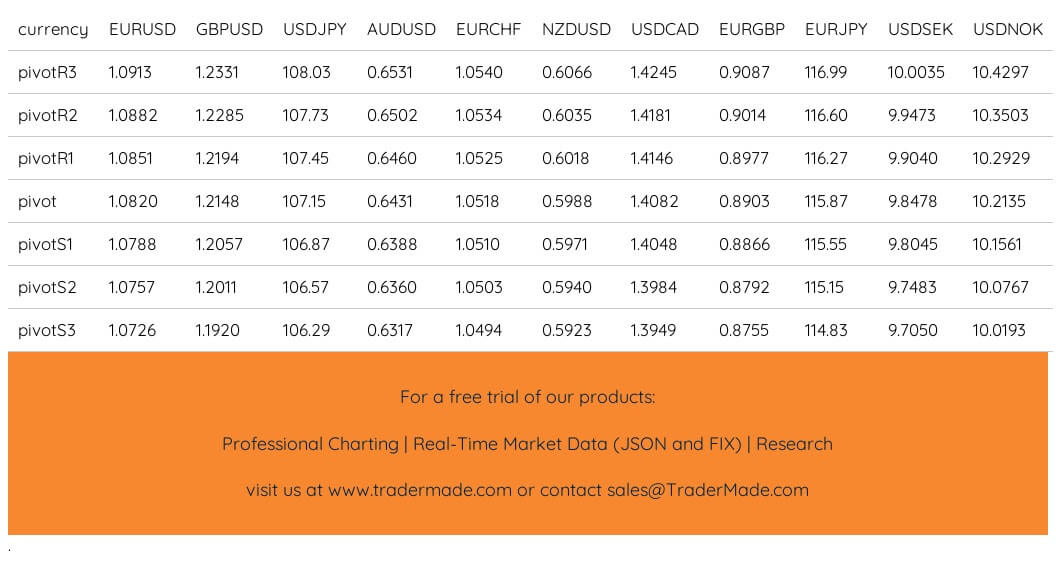 Economic Calendar
10-year Yields Chart (6-month)
USD-Index Daily Chart (6-month)
Brent Front Month Daily Chart (6-month)
Trade Weighted Basket Hourly (two-week)
Major Currency Pairs
EURUSD Chart (Two-week)
Strategy: Resistance at 1.1234 for 1.1110
Short-term view: EUR/USD resistance at 1.1234, MACD and RSI are bearish. Hence, we see a move lower to 1.1110. Above 1.1234 to open 1.1280.
GBPUSD Chart (Two-week)
Strategy: Resistance at 1.2112 for 1.1952
Short-term view: GBP/USD resistance at 1.2112, momentum is still bearish and we see a dip to 1.2000, likely 1.1952. Above 1.2112 to open 1.2190.
USDJPY Chart (Two-week)
Strategy: Resistance at 105.81 for 104.29
Short-term view: USD/JPY has resistance around 105.81, momentum is still bearish hence, we see a move lower to 105.03 and 104.29. Above 105.81 opens 106.30
AUDUSD Chart (Two-week)
Strategy: Resistance at 0.6800 for 0.6725
Short-term view: AUD/USD short-term downtrend continues, we look for resistance at 0.6800 for a move lower towards 0.6725, likely 0.6650. Above 0.6800 we look for 0.6830-0.6869 in the immediate short-term.