Dollar Up on Positive Data, Eyes on RBNZ Policy Review
Updated 10:04AM 07/02/2020
JPY and GBP are the top G10 FX gainers today, up 0.04% and -0.04% vs the dollar while AUD and NZD are the top losers, down -0.49% and -0.45% vs the dollar.
The euro dipped lower reaching lowest levels since October after industrial output (Germany) fell sharply, its biggest dip in over a decade. Good job numbers in the U.S. also helped investors to bid the dollar. The dollar remained strong amid positive domestic data and weak risk sentiments, as the economic fallout from coronavirus in China continues to worry investors. Elsewhere, RBNZ is likely to hold rates at 1.0% at its policy meeting next week despite risks from the virus epidemic in China. That said, the possibility of another rate cut this year can't be ruled out.
In the Asian equities space, the Nikkei 225 closed -0.19% lower at 23,827.98, Hang Seng closed -0.33% at 27404.27 and Kospi ended -0.72% at 2211.95. The European equities were trading mixed with the FTSE -0.19% at 7490.46, DAX -0.27% at 13538.05, and CAC 0.11% at 6044.67. In the rates market, global yields were trading weaker; the US 10-year yield was trading at 1.6144% and the Bund 10-year yield trading at -0.384%. In the energy space, the Brent (front month) is trading up (0.11%) for the day at $54.99.
Get Real-Time Forex Trade Ideas
Economic Calendar
10-year Yields Daily Chart (6-month)
Daily FX Pivots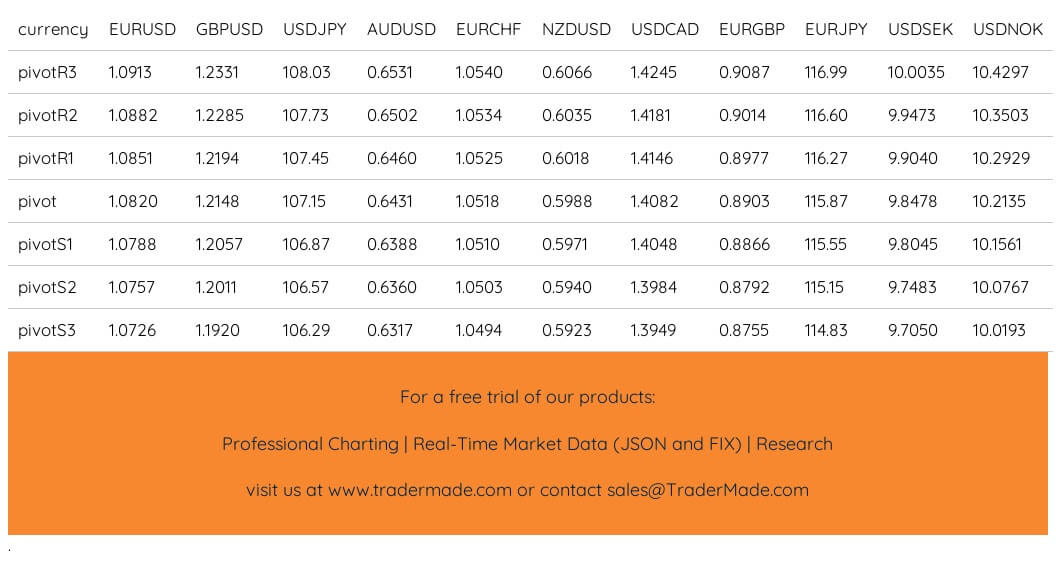 Brent Front Month Daily Chart (6-month)
Forex Chart and Technical Analysis
EURUSD Chart (Two-week)
Strategy: Resistance at 1.1014 for 1.0959
Short-term view: EUR/USD resistance comes in at 1.1014, MACD crossover suggests a bearish bias and RSI is below 50. Hence we see a downside to 1.0925. Above 1.1014 to open 1.1034
GBPUSD Chart (Two-week)
Strategy: Resistance at 1.2982, for 1.2869
Short-term view: GBP/USD resistance comes in at 1.2982, MACD crossover suggests a bearish bias and RSI is below 50. Hence we see a downside to 1.2869. Above 1.2982 to open 1.3034
USDJPY Chart (Two-week)
Strategy: Support at 109.81 for 110.18
Short-term view: USD/JPY support comes in at 109.81, MACD above zero and RSI is above 50. Hence we see an upside to 110.18. Below 109.81 to open 109.64
AUDUSD Chart (Two-week)
Strategy: Support at 0.6741 for 0.6677
Short-term view: AUD/USD resistance comes in at 0.6741, MACD crossover suggests a bearish bias and RSI is below 50. Hence we see a downside to 0.6677. Above 0.6741 to open 0.6754