Draghi's Last Stand - What to expect
Updated 09:23AM 24/10/2019
SEK and NOK are the top G10 FX gainers today, up 0.39% and 0.06% vs the dollar while NZD and AUD are the top losers, down -0.45% and -0.35% vs the dollar. 
Mario Draghi will convene his last press conference on Thursday as President of the ECB. It couldn't have come at a worse time as the eurozone inflation hangs at less than half the ECB's target. There is unlikely to be any fireworks and we expect the same rhetoric of more easing to continue.
Elsewhere, Swedish Krone rose 0.65% as the Swedish central bank continued with its plans to raise interest rates in the next month. The Norwegian Krone was also trading firm - thanks to a surge seen on Wednesday in oil prices - despite a relatively dovish message from the Norges Bank.
In the Asian equities space, the Nikkei 225 closed up 0.55% at 22,750.60, Hang Seng closed 0.87% at 26797.95 and Kospi ended 0.24% at 2085.66. The European equities were trading firm with the FTSE up +0.65% at 7308.02, DAX up +0.44% at 12854.51, and CAC up +0.32% at 5671.68. In the rates market, global yields were trading mixed; the US 10-year yield was trading at 1.7555% and the Bund 10-year yield trading at -0.386%. In the energy space, the Brent (front month) is trading down (-0.72%) for the day at $60.73.
Our Free Forex Website at https://research.tradermade.com/.
Latest Forex-alerts at
Daily Pivots for Key Currency Pairs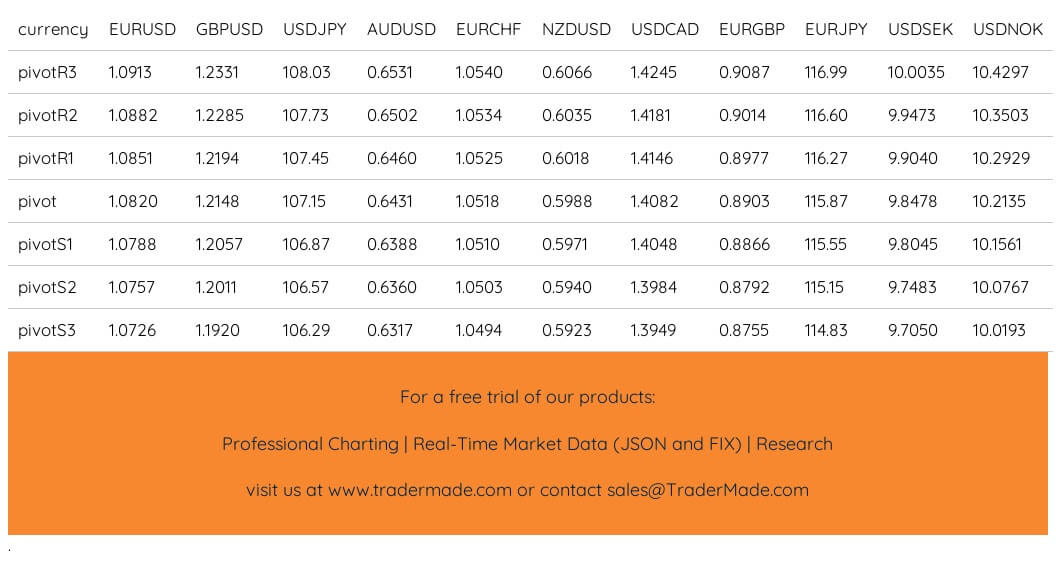 Economic Calendar
10-year Yields Chart (6-month)
Brent Front Month Daily Chart (6-month)
USD-Index Daily Chart (6-month)
Major Currency Pairs
EURUSD Chart (Two-week)
Strategy: Resistance at 1.1167 for 1.1050
Short-term view: EUR/USD resistance at 1.1167, MACD and RSI are bearish. Hence, we see a move to 1.1097, likely 1.1050. Above 1.1167 to open 1.1200, likely 1.1234.
GBPUSD Chart (Two-week)
Strategy: Resistance at 1.2950 for 1.2750
Short-term view: GBP/USD resistance at 1.2950, MACD and RSI are weak. We see risk of a dip to 1.2850, likley 1.2750. Above 1.2950 to open 1.3000.
USDJPY Chart (Two-week)
Strategy: Resistance at 108.81 for 108.11
Short-term view: USD/JPY has resistance around 108.60, MACD and RSI are weak. Hence, we see a move lower to 108.11. Above 108.81 opens 109.15.
AUDUSD Chart (Two-week)
Strategy: Resistance at 0.6869 for 0.6780
Short-term view: AUD/USD MACD and RSI are weak and resistance at 0.6869. A move towards 0.6780 likely. Above 0.6862 to open 0.6920.