Euro near key levels, Coronavirus Risk Still loom
Updated 10:39AM 29/01/2020
JPY and SEK are the top G10 FX gainers today, up 0.1% and 0.1% vs the dollar while EUR and NZD are the top losers, down -0.16% and -0.15% vs the dollar. The markets were calmer compared to Tuesday with the panic over Coronavirus muted as investors assessed the economic impact of the virus spreading. The euro was testing key support at 1.1000 versus the dollar ahead of the Fed later today. A break from 1.1000 likely to cause some sharp moves lower towards 1.0900. Elsewhere, Sterling was trading weaker ahead of Bank of England on Thursday. There is a 50-50 chance of a rate cut following dovish statements by the BoE members over the past month. In the Asian equities space, the Nikkei 225 closed up 0.71% at 23,379.40, Hang Seng closed -2.82% at 27160.63 and Kospi ended 0.39% at 2185.28. The European equities is trading firm with the FTSE up +0.15% at 7491.85, DAX up +0.02% at 13326.85, and CAC up +0.28% at 5942.2. In the rates market, global yields are trading mixed; the US 10-year yield was trading at 1.62% and the Bund 10-year yield trading at -0.37%. In the energy space, the Brent (front month) is trading up (0.81%) for the day at $59.99.
Get Real-Time Forex Trade Ideas
Economic Calendar
10-year Yields Daily Chart (6-month)
Daily FX Pivots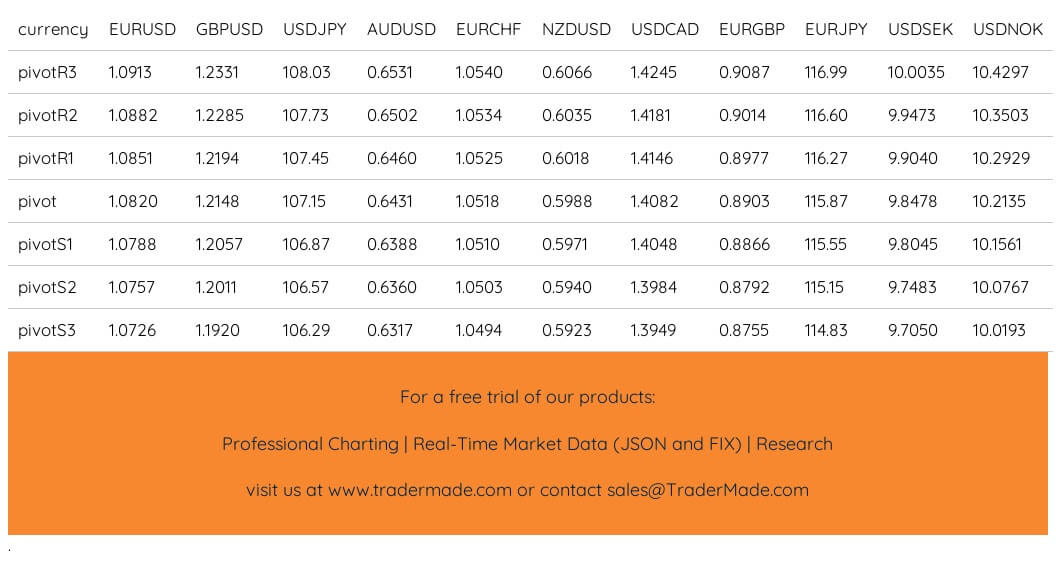 Brent Front Month Daily Chart (6-month)
USD-Index Daily Chart (6-month)
Forex Chart and Technical Analysis
EURUSD Chart (Two-week)
Strategy: Support at 1.1000 for 1.1100
Short-term view: EUR/USD support at 1.1000, MACD and RSI are improving. Hence, we see a move to 1.1100. Below 1.1000 to open 1.10950.
GBPUSD Chart (Two-week)
Strategy: Resistance at 1.3050, for 1.2950
Short-term view: GBP/USD resistance at 1.3050, MACD and RSI are weak. Hence, we expect a dip to 1.2950. Above 1.3050 to open 1.3100.
USDJPY Chart (Two-week)
Strategy: Resistance at 109.40 for 108.01
Short-term view: USD/JPY resistance at 109.40, RSI and MACD are weakening. A move lower to 108.01 is likely. Above 109.40 to open 109.80
AUDUSD Chart (Two-week)
Strategy: Resistance at 0.6780 for 0.6700
Short-term view: AUD/USD MACD and RSI are weakening and resistance at 0.6780. A move towards 0.6700 is likely. Above 0.6780 to open 0.6833.