EURO Slides on ECB Rate Cut Expectations, British Pound Weighed Down by Political Uncertainty
Updated 09:27AM 03/09/2019


AUD and JPY are the top G10 FX gainers today, up 0.21% and 0.17% vs the dollar while GBP and SEK are the top losers, down -0.63% and -0.49% vs the dollar.
The Euro fell to a 28-month low versus the dollar as the market priced in further cuts to the interest rates by the ECB. There is now an 83% probability that the ECB will cut the benchmark rate by 20 bp next week.
The British Pound was trading below the $1.20, a three-year low, as chances of another general election rise. Elsewhere, AUD caught a bid after RBA failed to cut interest rates at the monetary policy meeting.
In the Asian equities space, the Nikkei 225 closed +0.02% at 20,625.16, Hang Seng closed -0.39% at 25527.85 and Kospi ended -0.18% at 1965.69. The European equities were trading weaker with the FTSE down -0.14% at 7271.92, DAX down -0.5% at 11893.86, and CAC down -0.6% at 5460.25. In the rates market, global yields were trading mixed; the US 10-year yield was trading at 1.4775% and the Bund 10-year yield trading at -0.738%. In the energy space, the Brent (front month) is trading down (-0.8%) for the day at $58.19.
Free Forex portal at https://research.tradermade.com/ Features live Quotes Board, Intra-day Analysis for more than 20+ forex pairs, Movements v USD, Candlestick Pattern Recognition, Market High/Low Alerts, Custom RSS News Feed.

Daily Pivots for Key Currency Pairs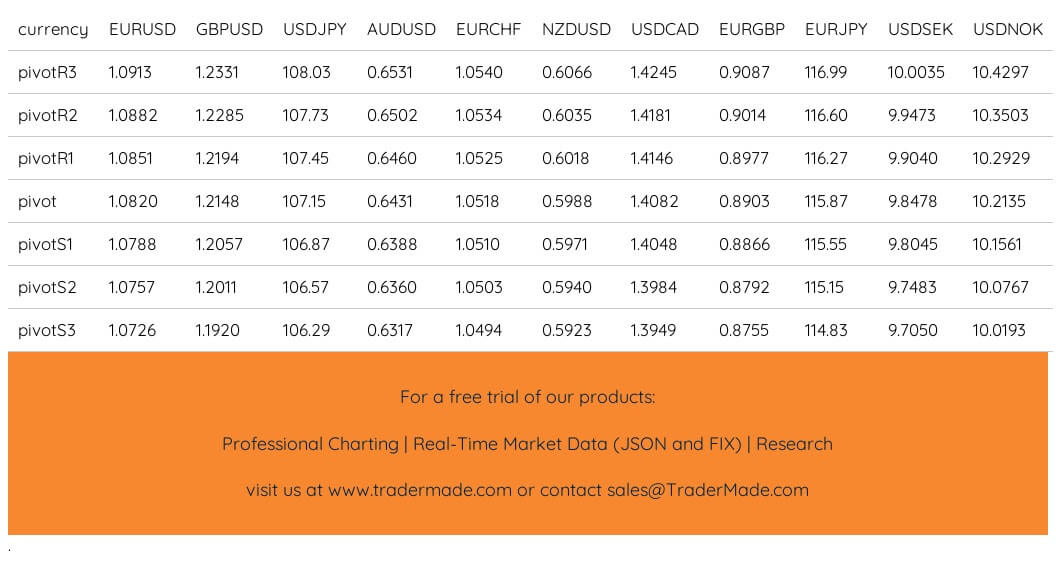 Economic Calendar
10-year Yields Chart (6-month)
USD-Index Daily Chart (6-month)
Brent Front Month Daily Chart (6-month)
Trade Weighted Basket Hourly (two-week)
Major Currency Pairs
EURUSD Chart (Two-week)
Strategy: Resistance at 1.0975 for 1.0840
Short-term view: EUR/USD resistance at 1.0975, MACD and RSI are weak. Hence, we see a move to 1.0903, possibly 1.0840. Above 1.0975 to open 1.1019.
GBPUSD Chart (Two-week)
Strategy: Resistance at 1.20460 for 1.1850
Short-term view: GBP/USD resistance at 1.2046, MACD and RSI are weak hence, we see a dip to 1.1900, likely 1.1850. Above 1.2046 to open 1.2112.
USDJPY Chart (Two-week)
Strategy: Resistance at 106.65 for 105.03
Short-term view: USD/JPY has resistance around 106.65 MACD and RSI are weak, hence, we see a move lower to 105.50 and 105.03. Above 106.65 opens 107.05
AUDUSD Chart (Two-week)
Strategy: Resistance at 0.6750 for 0.6650
Short-term view: AUD/USD MACD and RSI are weak, we look for resistance at 0.6750 for a move lower towards 0.6650, likely 0.6568. Above 0.6750 we look for 0.6800 in the immediate short-term.