EURO Struggles Amid Trade Wars Worry, Brexit Uncertainty Weighs on Sterling
Updated 09:28AM 02/09/2019
FX Strategy 02 Sep 19
NOK and SEK are the top G10 FX gainers today, up 0.11% and 0.1% vs the dollar while GBP and AUD are the top losers, down -0.51% and -0.19% vs the dollar.
The euro stayed below $1.10 level as trade wars between the U.S. and China escalated further with additional tariffs imposed on imports from both sides. Global Economic outlook remained murky and the investors are now expecting more quantitative easing from the ECB at the September meeting which should keep EURUSD well offered.
The British pound weakened once again as the market braced for more UK political uncertainty. The lawmakers opposed to PM Johnson's Brexit plans will try and find ways to oppose a "no-deal" scenario. That said, "no deal" and another General Election still seems to be a likely scenario which should weigh on Sterling.
In the Asian equities space, the Nikkei 225 closed -0.41% lower at 20,620.19, Hang Seng closed -0.38% at 25626.55 and Kospi ended 0.07% at 1969.19. The European equities were trading firm with the FTSE up +0.86% at 7269.03, DAX up +0.09% at 11950.5, and CAC up +0.18% at 5490.35. In the rates market, global yields were trading mixed; the US 10-year yield was trading at nan% and the Bund 10-year yield trading at -0.699%. In the energy space, the Brent (front month) is trading down (-2.38%) for the day at $58.99.
Free Forex portal at https://research.tradermade.com/ Features live Quotes Board, Intra-day Analysis for more than 20+ forex pairs, Movements v USD, Candlestick Pattern Recognition, Market High/Low Alerts, Custom RSS News Feed.

Daily Pivots for Key Currency Pairs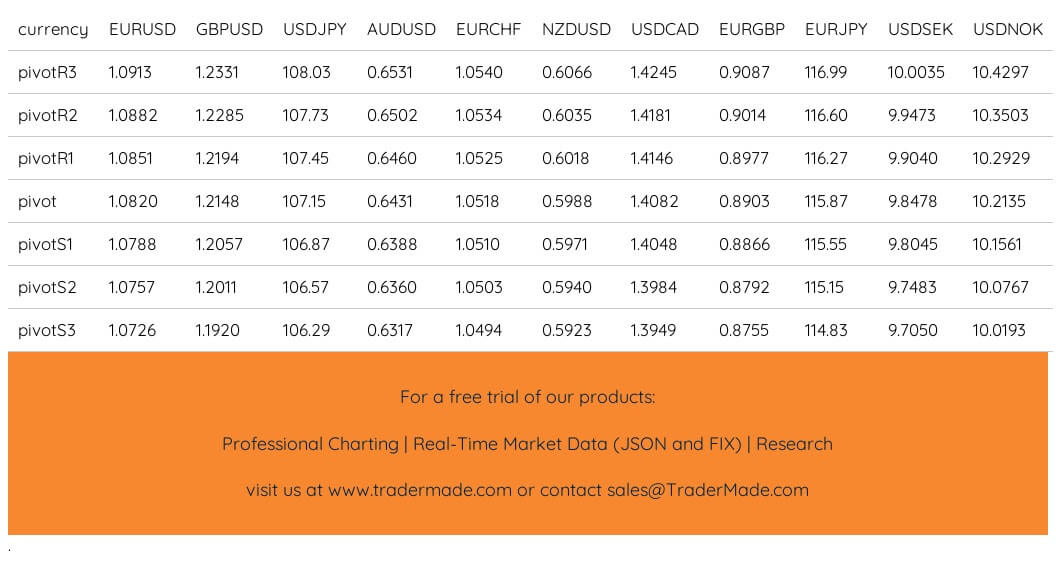 Economic Calendar
10-year Yields Chart (6-month)
USD-Index Daily Chart (6-month)
Brent Front Month Daily Chart (6-month)
Trade Weighted Basket Hourly (two-week)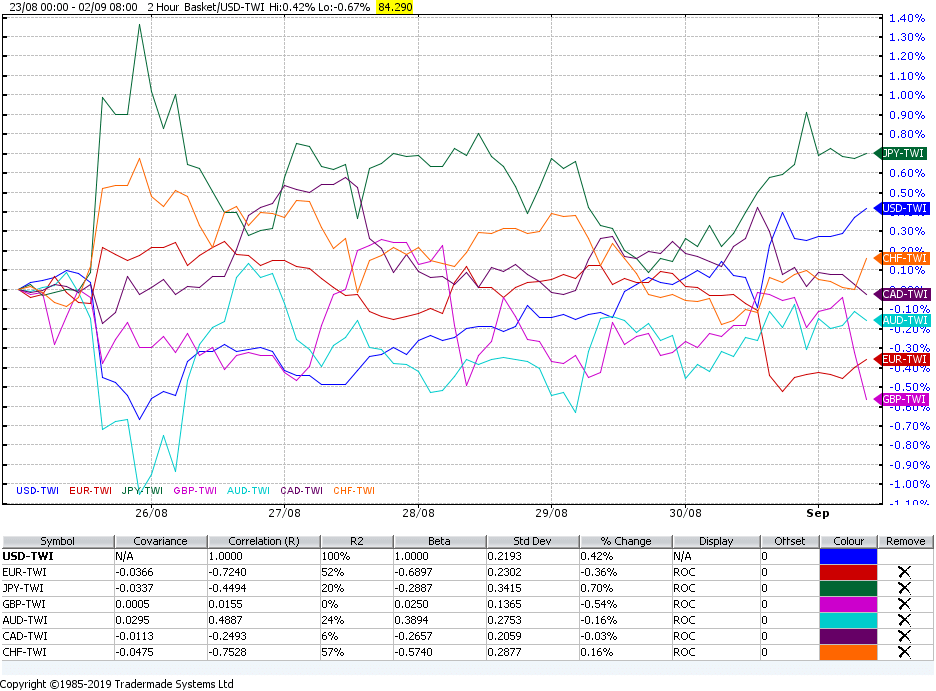 Major Currency Pairs
EURUSD Chart (Two-week)
Strategy: Resistance at 1.1019 for 1.0903
Short-term view: EUR/USD resistance at 1.1019, MACD and RSI are weakening. Hence, we see a move to 1.0950, possibly 1.0903. Above 1.1019 to open 1.1062.
GBPUSD Chart (Two-week)
Strategy: Resistance at 1.2169 for 1.2046
Short-term view: GBP/USD resistance at 1.2169, MACD and RSI are weak hence, we see a dip to 1.2087, likely 1.2046. Above 1.2169 to open 1.2219.
USDJPY Chart (Two-week)
Strategy: Resistance at 106.65 for 105.50
Short-term view: USD/JPY has resistance around 106.65 MACD and RSI are giving mixed signals, hence, we see a move lower to 106.00 and 105.50. Above 106.65 opens 107.05
AUDUSD Chart (Two-week)
Strategy: Resistance at 0.6750 for 0.6650
Short-term view: AUD/USD MACD and RSI are weak, we look for resistance at 0.6750 for a move lower towards 0.6650, likely 0.6568. Above 0.6750 we look for 0.6800 in the immediate short-term.