Fed policy decision and UK General Election, what to expect
Updated 10:03AM 30/10/2019
TraderMade Launches Broken Forward Calculator
CHF and AUD are the top G10 FX gainers today, up 0.22% and 0.15% vs the dollar while SEK and NOK are the top losers, down -0.29% and -0.09% vs the dollar. 
The U.K. will hold its first December election since 1923 after PM Johnson won the parliamentary vote for a snap election by 438 to 20 votes. Brexit has left voters tired and frustrated and this could mean that the general election may throw surprises. That said, "no-deal" exit is now less of a threat and this may lead to low volatility in GBP over the coming days.
Fed will meet for another policy decision later on Wednesday: according to the CME Fed watch tool, a cut of 25bp is 96.2% priced in. Overall, the market will focus on the balance sheet issues; off lately Fed has shifted from shrinking of the balance sheet to expanding of the balance sheet.
In the Asian equities space, the Nikkei 225 closed -0.57% at 22,843.12, Hang Seng closed -0.44% at 26667.71 and Kospi ended -0.59% at 2080.27. The European equities were trading mixed with the FTSE -0.14% at 7296.24, DAX -0.24% at 12908.65, and CAC 0.12% at 5747.2. In the rates market, global yields were trading mixed; the US 10-year yield was trading at 1.8262% and the Bund 10-year yield trading at -0.356%. In the energy space, the Brent (front month) is trading up (0.21%) for the day at $61.72.
Our Free Forex Website at https://research.tradermade.com/.
Latest Forex-alerts at
Daily Pivots for Key Currency Pairs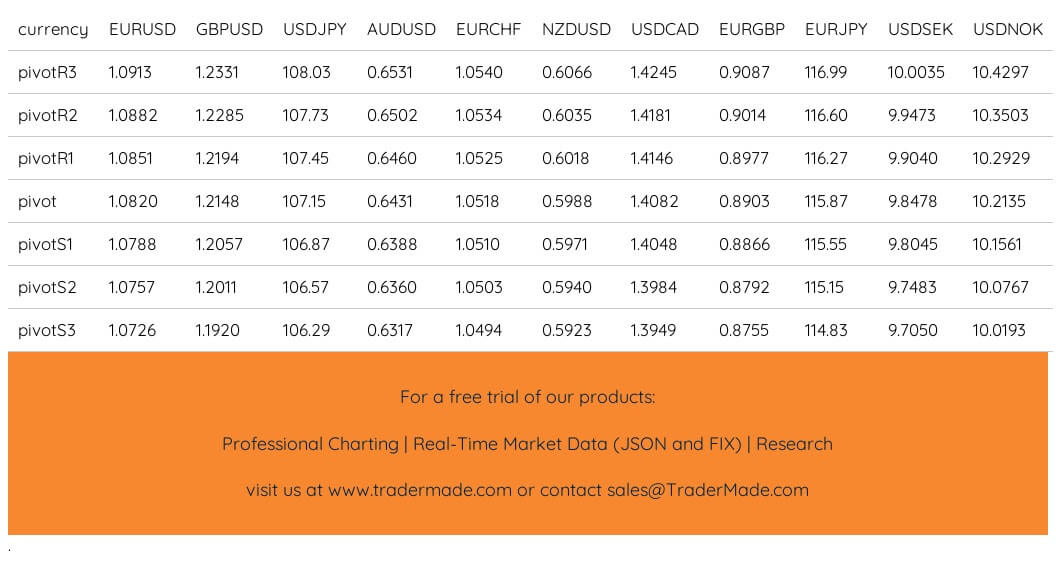 Economic Calendar
10-year Yields Chart (6-month)
Brent Front Month Daily Chart (6-month)
USD-Index Daily Chart (6-month)
Major Currency Pairs
EURUSD Chart (Two-week)
Strategy: Support at 1.1094 for 1.1167
Short-term view: EUR/USD support at 1.1094, MACD and RSI are improving. Hence, we see a move to 1.1167. Below 1.1094 to open 1.1050.
GBPUSD Chart (Two-week)
Strategy: Resistance at 1.2900 for 1.2750
Short-term view: GBP/USD resistance at 1.2900, MACD and RSI are weak. We see risk of a dip to 1.2750. Above 1.2900 to open 1.3000.
USDJPY Chart (Two-week)
Strategy: Resistance at 109.15 for 108.43
Short-term view: USD/JPY has resistance around 109.15, MACD and RSI are flat. Hence, we see a move lower to 108.43. Above 109.15 opens 110.00.
AUDUSD Chart (Two-week)
Strategy: Resistance at 0.6883 for 0.6820
Short-term view: AUD/USD MACD and RSI are topping out and resistance at 0.6883. A move towards 0.6820 likely. Above 0.6883 to open 0.6920.