Forex Outlook ahead of Key Central Bank Meetings
Updated 12:50PM 20/01/2020
SEK and USD are the top G10 FX gainers today while GBP and NZD are the top losers, down -0.3% and -0.17% vs the dollar. The dollar was firm around 4-week highs versus major currencies on the back of data last week which confirmed that the U.S. economy is doing well, while Yuan hit a new six-month peak.Overall the FX market was quiet ahead of the key central bank meetings, the BoJ and ECB will announce its rate decisions on Tuesday, and Thursday, respectively. There are not many expectations in terms of surprises and we expect currency moves to be a little more pronounce post ECB meeting.The Aussie and Kiwi were both poised ahead of Australian employment data and New Zealand CPI later in the week. An improvement in these metrics may halt market expectations of further interest rate cuts from the RBA and RBNZ. In the Asian equities space, the Nikkei 225 closed up 0.18% at 24,083.51, Hang Seng closed -0.9% at 28795.91 and Kospi ended 0.54% at 2262.64. The European equities were trading weaker with the FTSE down -0.22% at 7657.47, DAX down -0.14% at 13507.05, and CAC down -0.33% at 6080.57. In the rates market, global yields were trading mixed; the US 10-year yield was trading at nan% and the Bund 10-year yield trading at -0.213%. In the energy space, the Brent (front month) is trading up (0.54%) for the day at $65.2.
Get Real Time Forex Trade Ideas
Economic Calendar
10-year Yields Daily Chart (6-month)
Daily FX Pivots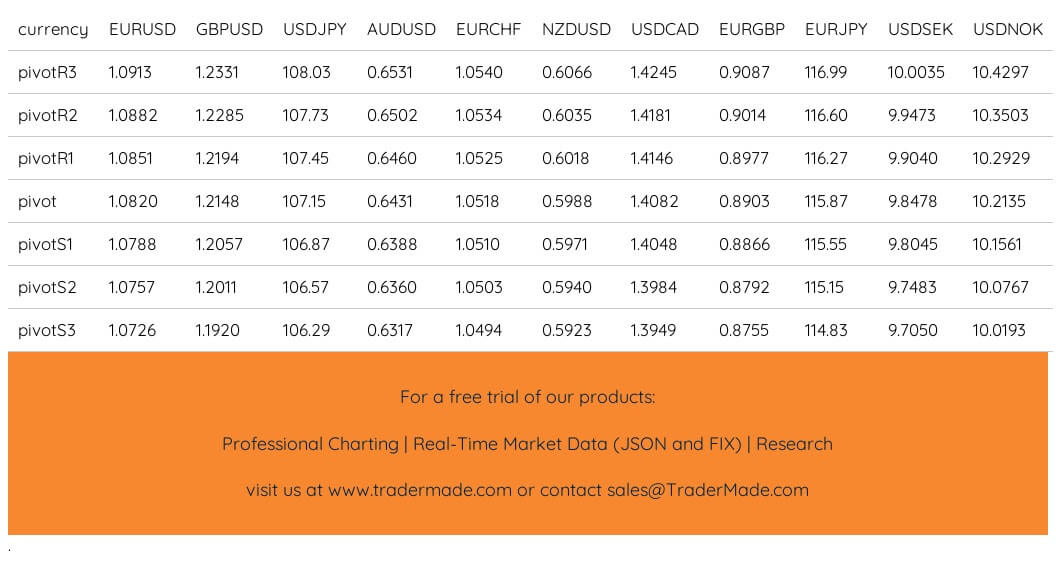 Brent Front Month Daily Chart (6-month)
USD-Index Daily Chart (6-month)
Forex Chart and Technical Analysis
EURUSD Chart (Two-week)
Strategy: Support at 1.1068 for 1.1136
Short-term view: EUR/USD support at 1.1068, MACD and RSI are oversold. Hence, we see a move to 1.1136, likely 1.1170. Below 1.1068 to open 1.1037.
GBPUSD Chart (Two-week)
Strategy: Support at 1.2950, for 1.3050
Short-term view: GBP/USD support at 1.2950, MACD and RSI are overextended. Hence, we expect a bounce to 1.3050. Below 1.2950 to open 1.2900.
USDJPY Chart (Two-week)
Strategy: Resistance at 110.67 for 109.40
Short-term view: USD/JPY resistance at 110.67, RSI and MACD are topping out. A move lower to 109.40 is likely. Above 110.67 to open 111.12.
AUDUSD Chart (Two-week)
Strategy: Support at 0.6836 for 0.6920
Short-term view: AUD/USD MACD and RSI are flat and support at 0.6836. A move towards 0.6920 is likely. Below 0.6836 to open 0.6780.