FX Market Poised Ahead of Key Events
Updated 10:14AM 11/12/2019
SEK and AUD are the top G10 FX gainers today, up 0.57% and 0.28% vs the dollar while EUR and GBP are the top losers, down -0.1% and -0.1% vs the dollar. 
The U.S. dollar inched higher as the market awaited the Federal Reserve meeting outcome and hoped that Trump will delay tariffs on Chinese goods.
Sterling edged lower once again, a day ahead of British general election after the latest opinion poll showed lead for the Conservative Party narrowing further. In our view, GBPUSD could hit 1.25 in unlikely event of a Labour party majority.
We expect the foreign exchange market to remain range-bound, as investors await the result of the U.K. general election, the outcome of the ECB meeting and the outcome of the 15th December trade deadline.
In the Asian equities space, the Nikkei 225 closed -0.8% lower at 23,391.86, Hang Seng closed 0.79% at 26645.43 and Kospi ended 0.36% at 2105.62. The European equities were trading mixed with the FTSE -0.07% at 7208.76, DAX 0.01% at 13072.35, and CAC -0.27% at 5832.41. In the rates market, global yields were trading weaker; the US 10-year yield was trading at 1.8191% and the Bund 10-year yield trading at -0.314%. In the energy space, the Brent (front month) is trading down (-0.4%) for the day at $64.08.
Get Forex Data in Google Sheets
Daily Pivots for Key Currency Pairs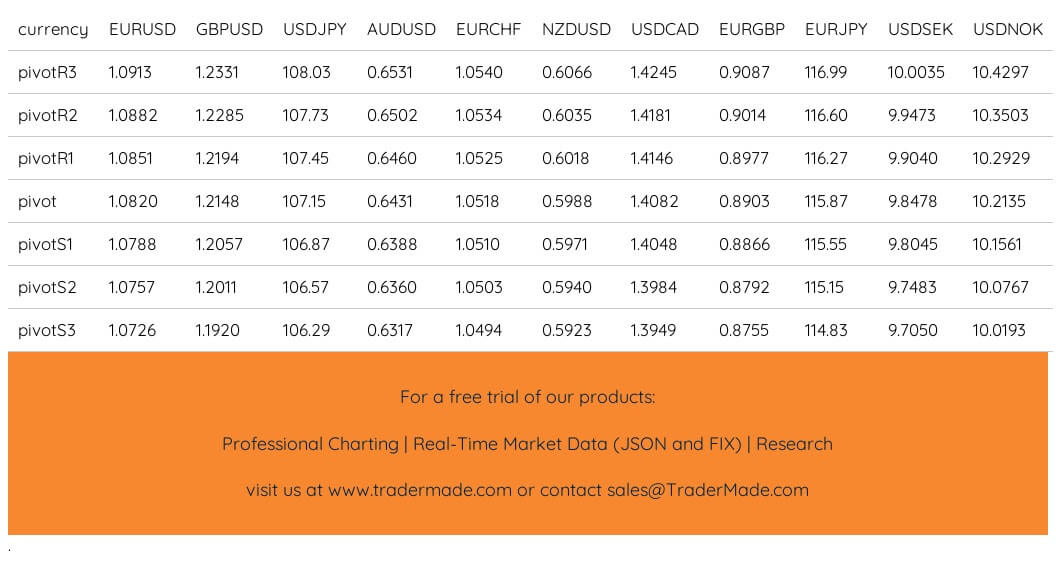 Economic Calendar
10-year Yields Chart (6-month)
Brent Front Month Daily Chart (6-month)
USD-Index Daily Chart (6-month)
Major Currency Pairs
EURUSD Chart (Two-week)
Strategy: Resistance at 1.1100 for 1.1037
Short-term view: EUR/USD resistance at 1.1100, MACD and RSI are weakening. Hence, we see a move to 1.1037. Above 1.1089 to open 1.1136.
GBPUSD Chart (Two-week)
Strategy: Resistance at 1.3178, for 1.3096
Short-term view: GBP/USD resistance at 1.3178, MACD and RSI are weak. Hence, we expect a dip to 1.3096. Above 1.3178 to open 1.3222.
USDJPY Chart (Two-week)
Strategy: Resistance at 108.81 for 108.01
Short-term view: USD/JPY resistance at 108.81, RSI and MACD are weak. A move lower to 108.01 is likely. Above 108.81 to open 109.47
AUDUSD Chart (Two-week)
Strategy: Resistance at 0.6836 for 0.6780
Short-term view: AUD/USD MACD and RSI are weakening and resistance at 0.6836. A move towards 0.6780 is likely. Above 0.6836 to open 0.6862