FX Strategy 05 Aug 19
Updated 09:28AM 05/08/2019
FX Strategy 05 Aug 19
CHF and JPY are the top G10 FX gainers today, up 0.66% and 0.55% vs the dollar while AUD and NZD are the top losers, down -0.63% and -0.41% vs the dollar. The trade war worsened after China let Yuan slide through the 7 per dollar mark. The markets are jittery as it expects a retaliation by U.S. President Donald Trump who had already imposed 10% tariffs on $300 billion of Chinese imports starting September the First. Elsewhere, Brexit worries continue to impact Sterling that remains languishing near multi-year lows; that said there are some murmurs that asset valuations have started to look cheap in dollar terms. In the Asian equities space, the Nikkei 225 closed down -1.71% at 20,720.29, Hang Seng closed -2.85% at 26151.32 and Kospi ended -2.56% at 1946.98. The European equities were trading weaker with the FTSE down -2.1% at 7251.28, DAX down -1.61% at 11681.64, and CAC down -1.94% at 5255.23. In the rates market, global yields were trading weaker; the US 10-year yield was trading at 1.7616% and the Bund 10-year yield trading at -0.517%. In the energy space, the Brent (front month) is trading down (-1.16%) for the day at $61.17.
For live high low alerts, more trade ideas 24X7, FX percentage movers and key market levels visit us at https://twitter.com/tradermade
Daily Pivots for Key Currency Pairs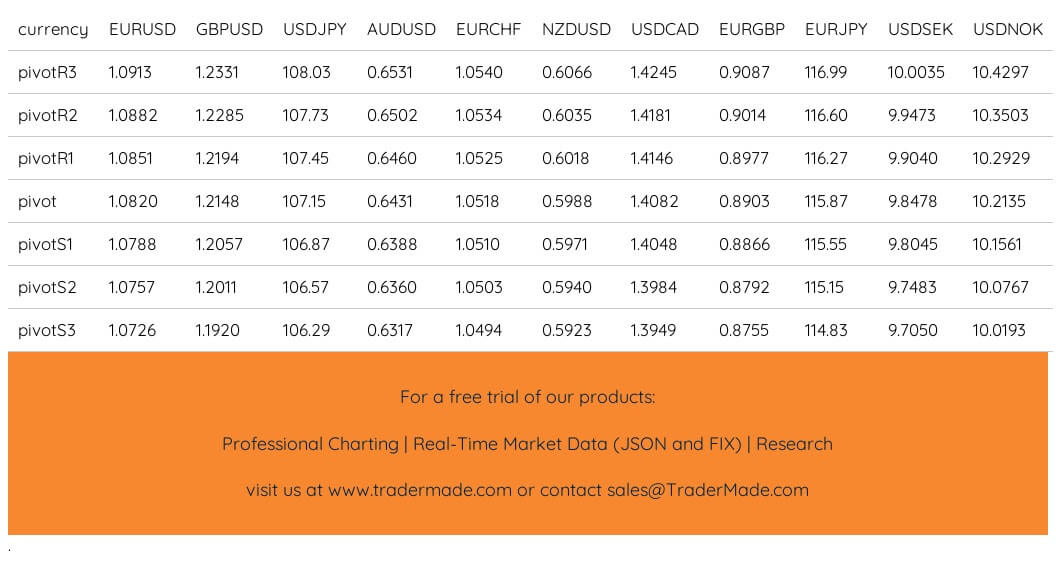 Economic Calendar
10-year Yields Chart (6-month)
USD-Index Daily Chart (6-month)
Brent Front Month Daily Chart (6-month)
Trade Weighted Basket Hourly (two-week)
Major Currency Pairs
EURUSD Chart (Two-week)
Strategy: Resistance at 1.1167 for 1.1062
Short-term view: EUR/USD resistance at 1.1167 and MACD and RSI seems overextended. Hence, we see a move lower to 1.1062. Above 1.1167 to open 1.1200.
GBPUSD Chart (Two-week)
Strategy: Resistance at 1.2181 for 1.2046
Short-term view: GBP/USD resistance at 1.2181 momentum is bearish and we see a deeper dip to 1.2046, likely 1.2000. Above 1.2181 to open 1.2243, 1.2306.
USDJPY Chart (Two-week)
Strategy: Resistance at 106.65 for 105.03
Short-term view: USD/JPY has resistance around 106.65 momentum is overly bearish hence, we see a move lower to 105.50 and 105.03 Above 106.65 opens 107.05
AUDUSD Chart (Two-week)
Strategy: Resistance at 0.6830 for 0.6650Short-term view:__ AUD/USD short-term downtrend continues, we look for resistance at 0.6830 for a move lower towards 0.6725, likely 0.6650. Above 0.6830 we look for 0.6869 in the immediate short-term.