FX Strategy 30 Jul 19
Updated 04:52PM 02/08/2019
FX Strategy 30 Jul 19
JPY and CHF are the top G10 FX gainers today, up 0.17% and 0.09% vs the dollar while SEK and GBP are the top losers, down -0.57% and -0.41% vs the dollar. Cable fell to a new two-year low on Tuesday amid growing concerns that Britain is will leave the European Union with a no-deal. UK PM Boris Johnson on Monday said that unless the EU renegotiated, Britain will leave on the 31st of October without a deal. Elsewhere, U.S. Dollar remained near two-month high; the investors are now expecting the Fed to cut interest rates by 25 basis point this week. The direction for the currency markets will now depend on whether the Federal reserve will enter a full rate cut cycle or will this be a one-off move. In the Asian equities space, the Nikkei 225 closed up 0.41% at 21,709.31, Hang Seng closed 0.14% at 28146.5 and Kospi ended 0.45% at 2038.68. The European equities were trading mixed with the FTSE 0.1% at 7693.97, DAX -0.95% at 12299.55, and CAC -0.67% at 5563.8. In the rates market, global yields were trading weaker; the US 10-year yield was trading at 2.0527% and the Bund 10-year yield trading at -0.396%. In the energy space, the Brent (front month) is trading up (0.82%) for the day at $64.23.
For live high low alerts, more trade ideas 24X7, FX percentage movers and key market levels visit us at https://twitter.com/tradermade
Daily Pivots for Key Currency Pairs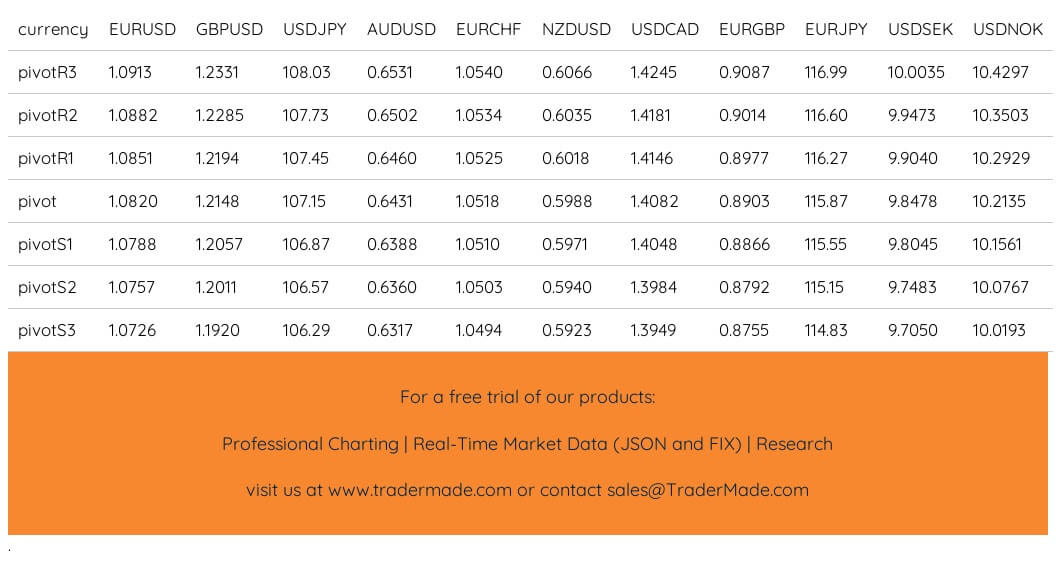 Economic Calendar

10-year Yields Chart (6-month)
USD-Index Daily Chart (6-month)
Brent Front Month Daily Chart (6-month)
Trade Weighted Basket Hourly (two-week)
Major Currency Pairs
EURUSD Chart (Two-week)
Strategy: Support at 1.1110 for 1.1200
Short-term view: EUR/USD support remains at 1.1110, a move higher targets key points at 1.1167 and 1.1200. Below 1.1110 to open 1.1078 and possibly 1.1019.
GBPUSD Chart (Two-week)
Strategy: Resistance at 1.2202 for 1.2046
Short-term view: GBP/USD resistance at 1.2202 momentum is bearish and we see a deeper dip to 1.2046, likely 1.2000. Above 1.2202 to open 1.2243, 1.2306.
USDJPY Chart (Two-week)
Strategy: Resistance at 109.15 for 108.15
Short-term view: USD/JPY has key resistance around 109.15, momentum is weakening hence, we see a move lower to 108.15 and 107.87. Above 109.15 opens 109.47 and 110.00 in the short-term
AUDUSD Chart (Two-week)
Strategy: Support at 0.6877 for 0.6950
Short-term view: AUD/USD short-term downtrend continues, we look for a hold at 0.6877 but a move lower would bring 0.6830 into play. Above 0.6950 we look for 0.7009 in the immediate short-term.