Global Recession Fears & Continued Demand For CHF and JPY
Updated 10:00AM 12/08/2019
FX Strategy 12 Aug 19
JPY and GBP are the top G10 FX gainers today, up 0.38% and 0.23% vs the dollar while NOK and SEK are the top losers, down -0.61% and -0.48% vs the dollar. The yen was trading firm on Monday, reaching a year and a half high versus the U.S. Dollar on concerns that a trade war between the United States of America and China could lead to a global recession. On Friday, U.S. President Donald Trump said that there will be no trade agreement between the U.S. and China for now; this has raised the demand for safe-haven currencies. We see continued demand for CHF and JPY amid uncertain trade environment. In the Asian equities space, Hang Seng closed -0.44% at 25824.72 and Kospi ended 0.23% at 1942.29. The European equities were trading mixed with the FTSE -0.14% at 7243.64, DAX 0.23% at 11720.94, and CAC 0.07% at 5331.5. In the rates market, global yields were trading weaker; the US 10-year yield was trading at 1.6864% and the Bund 10-year yield trading at -0.588%. In the energy space, the Brent (front month) is trading down (-0.84%) for the day at $58.04.
New Free Forex portal at https://research.tradermade.com/ Features live Quotes Board, Movements v USD, Candlestick Pattern Recognition, Market High/Low Alerts, Bespoke News Feed and Currency Analysis.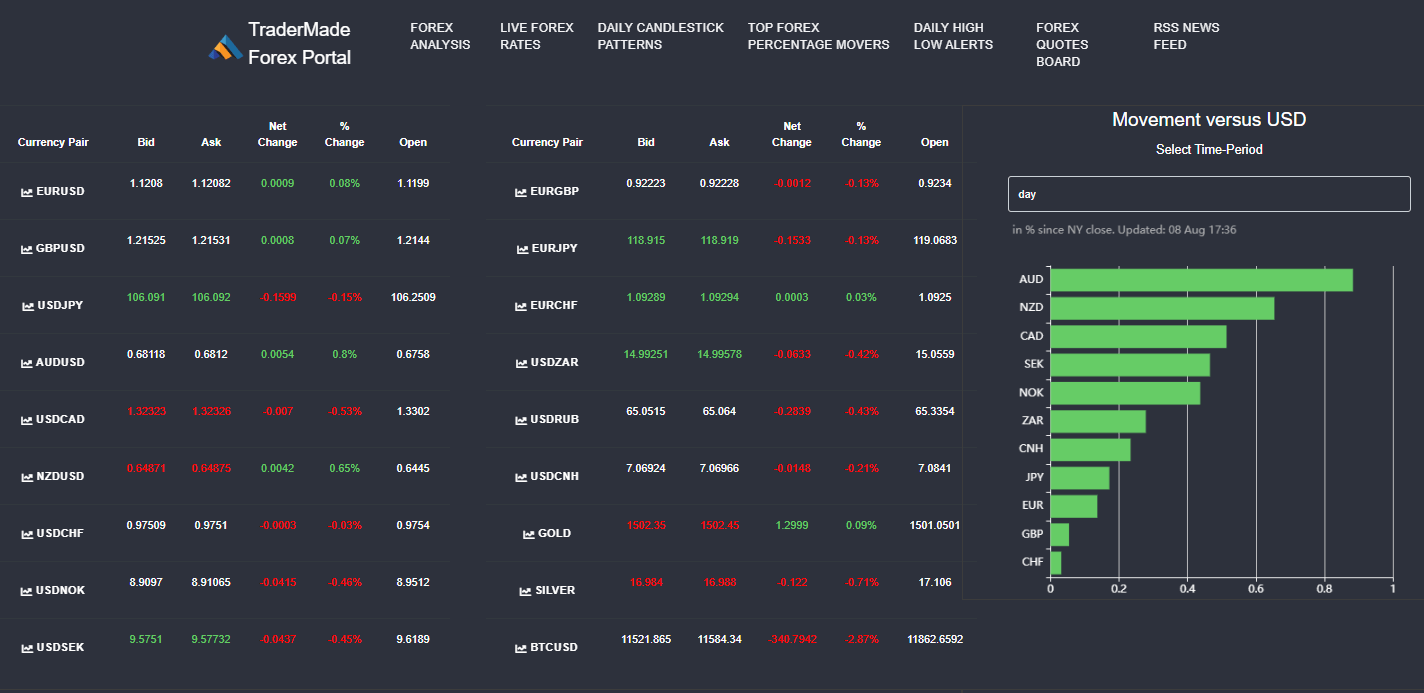 Daily Pivots for Key Currency Pairs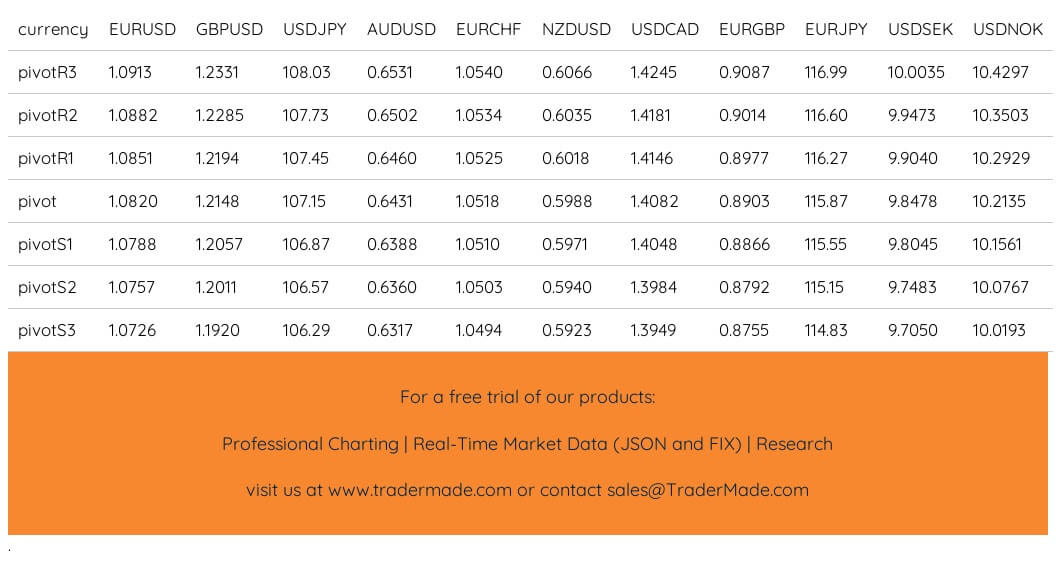 Economic Calendar
10-year Yields Chart (6-month)
USD-Index Daily Chart (6-month)
Brent Front Month Daily Chart (6-month)
Trade Weighted Basket Hourly (two-week)
Major Currency Pairs
EURUSD Chart (Two-week)
Strategy: Resistance at 1.1200 for 1.1110
Short-term view: EUR/USD resistance at 1.1200, MACD and RSI are bearish. Hence, we see a move lower to 1.1110. Above 1.1200 to open 1.1234.
GBPUSD Chart (Two-week)
Strategy: Resistance at 1.2112 for 1.1952Short-term view:__ GBP/USD resistance at 1.2112, momentum is still bearish and we see a dip to 1.2000, likely 1.1952. Above 1.2112 to open 1.2190.
USDJPY Chart (Two-week)
Strategy: Resistance at 105.81 for 104.29
Short-term view: USD/JPY has resistance around 105.81, momentum is still bearish hence, we see a move lower to 105.03 and 104.29. Above 105.81 opens 106.30
AUDUSD Chart (Two-week)
Strategy: Resistance at 0.6800 for 0.6725
Short-term view: AUD/USD short-term downtrend continues, we look for resistance at 0.6800 for a move lower towards 0.6725, likely 0.6650. Above 0.6800 we look for 0.6830-0.6869 in the immediate short-term.