Outlook for Currencies Heading into the Holidays
Updated 12:43PM 20/12/2019
GBP and AUD are the top G10 FX gainers today, up 0.22% and 0.16% vs the dollar while NZD and CHF are the top losers, down -0.15% and -0.14% vs the dollar. U.S. dollar was steady versus the major currencies and was set for the best week in over a month on the back of strong economic data. Sterling continues to remain weak as concerns over a hard Brexit gather pace, GBP to Dollar had its worst week in two years. Expect Currency trading to be subdued over the Christmas and New Year holiday period. In the Asian equities space, the Nikkei 225 closed - 0.20% at 23,816.63, Hang Seng closed 0.25% at 27871.35 and Kospi ended 0.35% at 2204.18. The European equities were trading firm with the FTSE up +0.01% at 7574.57, DAX up +0.15% at 13231.51, and CAC up +0.03% at 5974.28. In the rates market, global yields were trading firmer; the US 10-year yield was trading at 1.9417% and the Bund 10-year yield trading at -0.225%. In the energy space, the Brent (front month) is trading down (-0.08%) for the day at $66.49.
Get Real-Time Forex Trade Ideas
Daily Pivots for Key Currency Pairs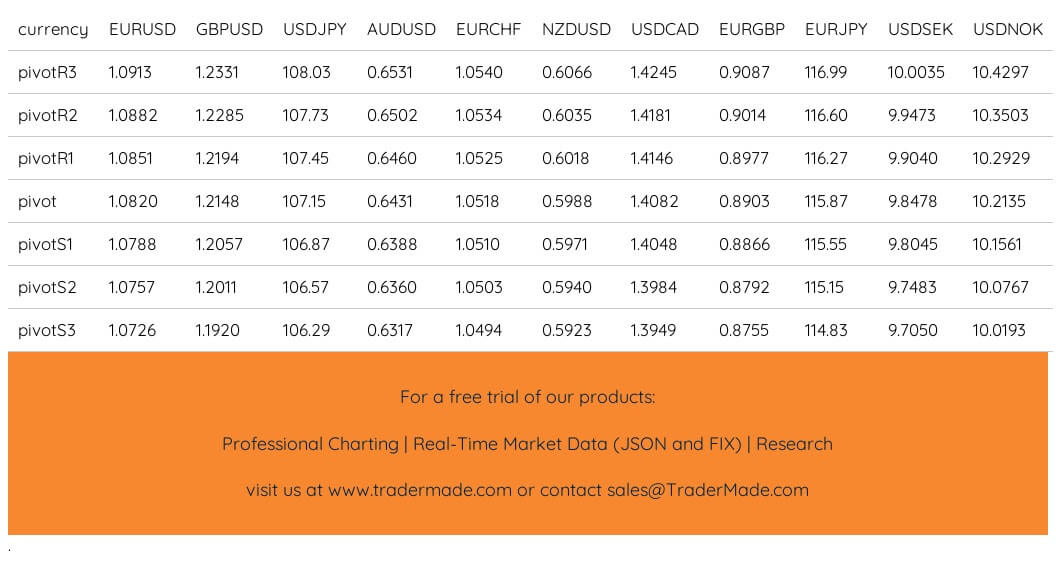 Economic Calendar
10-year Yields Chart (6-month)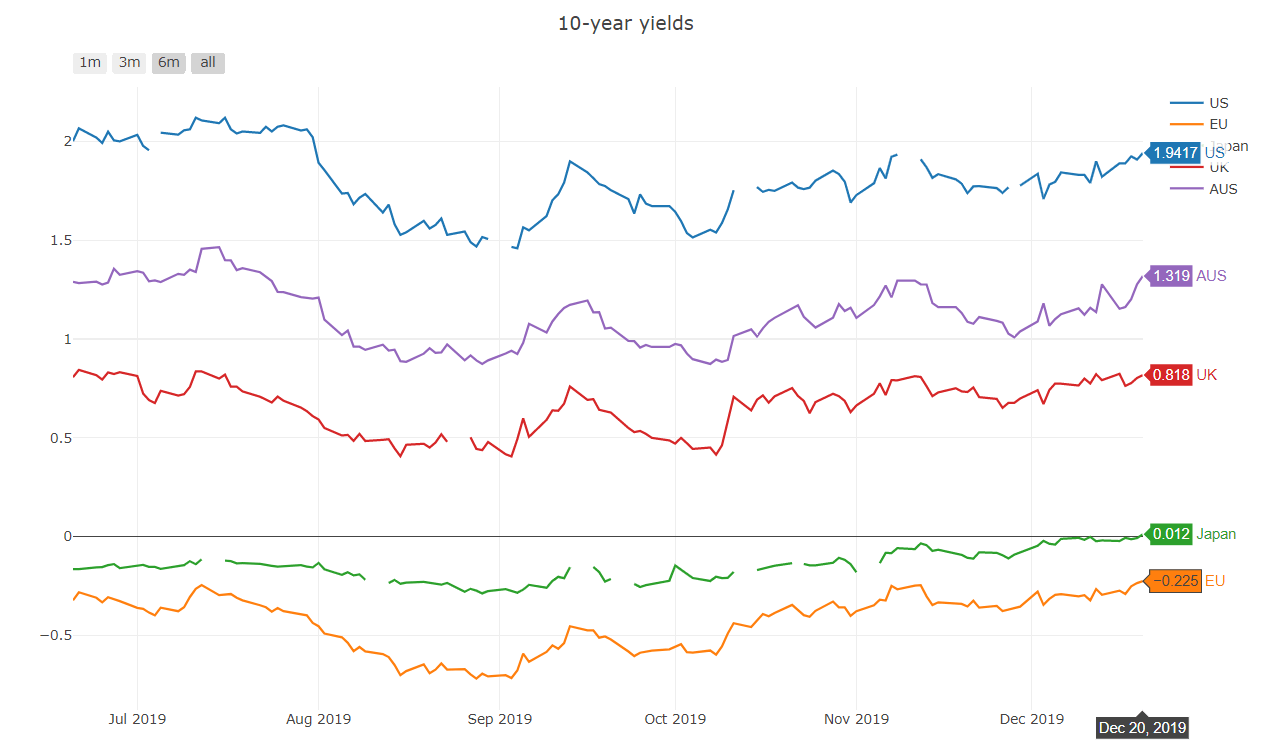 Brent Front Month Daily Chart (6-month)
USD-Index Daily Chart (6-month)
Forex Chart and Technical Analysis
EURUSD Chart (Two-week)
Strategy: Resistance at 1.1167 for 1.1068
Short-term view: EUR/USD resistance at 1.1167, MACD and RSI are weak. Hence, we see a move to 1.1100, likely 1.1068. Above 1.1167 to open 1.1200.
GBPUSD Chart (Two-week)
Strategy: Resistance at 1.3100, for 1.2950
Short-term view: GBP/USD resistance at 1.3100, MACD and RSI are weak. Hence, we expect a dip to 1.2950. Above 1.3100 to open 1.3222.
USDJPY Chart (Two-week)
Strategy: Resistance at 110.00 for 109.00
Short-term view: USD/JPY resistance at 110.00, RSI and MACD are flat. A move lower to 109.00 is likely. Above 110.00 to open 110.67
AUDUSD Chart (Two-week)
Strategy: Support at 0.6862 for 0.6920
Short-term view: AUD/USD MACD and RSI are improving and support at 0.6862. A move towards 0.6920-0.6950 is likely. Below 0.6862 to open 0.6836.