PBoC Sets Daily Reference Rate and Sterling Worries over Brexit
Updated 09:16AM 06/08/2019
FX Strategy 06 Aug 19
AUD and NOK are the top G10 FX gainers today, up 0.5% and 0.35% vs the dollar while JPY and CHF are the top losers, down -0.49% and -0.16% vs the dollar. The Chinese Yuan recovered from record lows as China took steps to curb the currency from falling further. The PBoC also set the daily reference rate to 6.9683, firmer than market expectations. Elsewhere, the British Pound rose slightly but in our view remains vulnerable to a further fall given that the market is still worried about a no-deal Brexit. In the Asian equities space, the Nikkei 225 closed -0.65% lower at 20,585.31, Hang Seng closed -0.67% at 25976.24 and Kospi ended -1.51% at 1917.5. The European equities were trading mixed with the FTSE -0.3% at 7201.98, DAX 0.31% at 11694.52, and CAC 0.46% at 5265.57. In the rates market, global yields were trading mixed; the US 10-year yield was trading at 1.7615% and the Bund 10-year yield trading at -0.522%. In the energy space, the Brent (front month) is trading up (0.38%) for the day at $60.04.
For live high low alerts, more trade ideas 24X7, FX percentage movers and key market levels visit us at https://twitter.com/tradermade
Daily Pivots for Key Currency Pairs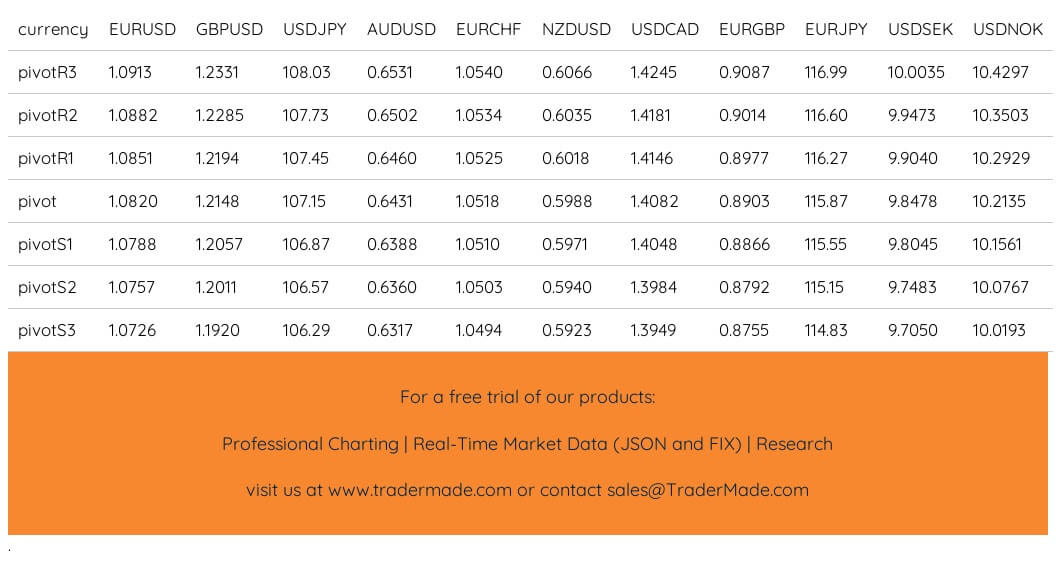 Economic Calendar
10-year Yields Chart (6-month)
USD-Index Daily Chart (6-month)
Brent Front Month Daily Chart (6-month)
Trade Weighted Basket Hourly (two-week)
Major Currency Pairs
EURUSD Chart (Two-week)
Strategy: Resistance at 1.1234 for 1.1167
Short-term view: EUR/USD resistance at 1.1234, MACD and RSI is looking to top out. Hence, we see a move lower to 1.1167, likely 1.1110. Above 1.1234 to open 1.1280.
GBPUSD Chart (Two-week)
Strategy: Resistance at 1.2243 for 1.2112
Short-term view: GBP/USD resistance at 1.2243, momentum is still bearish and we see a dip to 1.2112, likely 1.2046. Above 1.2243 to open 1.2306.
USDJPY Chart (Two-week)
Strategy: Resistance at 107.05 for 105.50
Short-term view: USD/JPY has resistance around 107.05, momentum is still bearish hence, we see a move lower to 105.50 and 105.03 Above 107.05 opens 107.48
AUDUSD Chart (Two-week)
Strategy: Resistance at 0.6830 for 0.6650Short-term view:__ AUD/USD short-term downtrend continues, we look for resistance at 0.6830 for a move lower towards 0.6725, likely 0.6650. Above 0.6830 we look for 0.6869 in the immediate short-term.