Risk Sentiments Improved, Sterling down on Boris's Statement
Updated 09:20AM 10/09/2019
CHF is the top G10 FX gainer today, up 0.07% vs the dollar while SEK and NOK are the top losers, down -0.87% and -0.55% vs the dollar. 
JPY fell to a 5-week low versus the U.S. dollar as bond yields rose and sentiments on the global economy shifted to slightly positive.
GBP was trading weaker as the risk of Brexit on 31st October remained high after PM Boris Johnson said there are no ifs and buts on the UK leaving the EU on deadline. 
The British parliament has approved a law which forces Johnson to request an extension from the EU but Boris said he would not do such a thing if he can't get a deal by mid-October. 
In the Asian equities space, the Nikkei 225 closed up +0.35% at 21,392.10, Hang Seng closed 0.01% at 26683.68 and Kospi ended 0.62% at 2032.08. The European equities were trading weaker with the FTSE down -0.34% at 7211.11, DAX down -0.26% at 12194.11, and CAC down -0.49% at 5561.46. In the rates market, global yields were trading firmer; the US 10-year yield was trading at 1.6335% and the Bund 10-year yield trading at -0.573%. In the energy space, the Brent (front month) is trading up (0.11%) for the day at $62.66.
Free Forex portal at https://research.tradermade.com/ Features live Quotes Board, Intra-day Analysis for more than 20+ forex pairs, Movements v USD, Candlestick Pattern Recognition, Market High/Low Alerts, Custom RSS News Feed.

Daily Pivots for Key Currency Pairs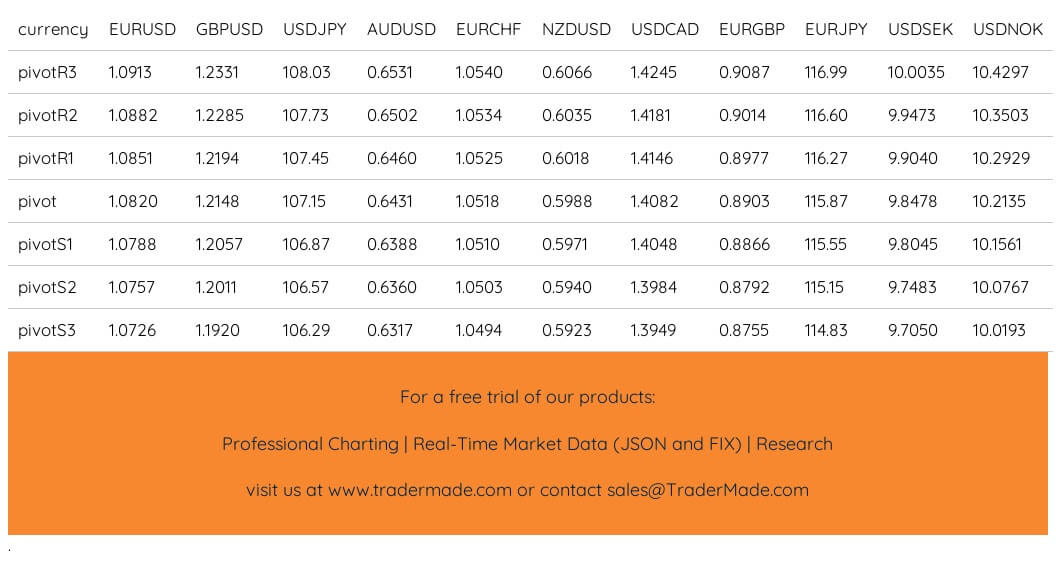 Economic Calendar
10-year Yields Chart (6-month)
USD-Index Daily Chart (6-month)
Brent Front Month Daily Chart (6-month)
Trade Weighted Basket Hourly (two-week)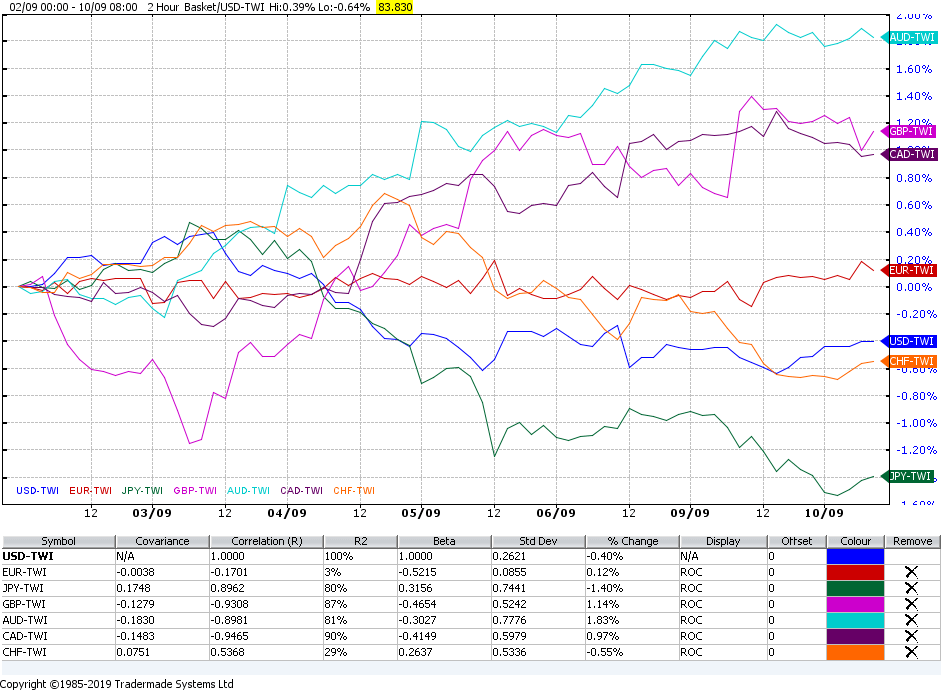 Major Currency Pairs
EURUSD Chart (Two-week)
Strategy: Support at 1.1019 for 1.1097
Short-term view: EUR/USD support at 1.1019, MACD and RSI are flat. Hence, we see a move to 1.1097. Below 1.1019 to open 1.0975.
GBPUSD Chart (Two-week)
Strategy: Resistance at 1.2381 for 1.2219
Short-term view: GBP/USD resistance at 1.2381, MACD and RSI are weakening. We see risk of a dip to 1.2265, possibly 1.2219. Above 1.2381 to open 1.2433
USDJPY Chart (Two-week)
Strategy: Resistance at 107.48 for 106.40
Short-term view: USD/JPY has resistance around 107.48 MACD and RSI are weakening, Hence, we see a move lower to 107.05, likely 106.40. Above 107.48 opens 108.01
AUDUSD Chart (Two-week)
Strategy: Resistance at 0.6869 for 0.6780
Short-term view: AUD/USD MACD and RSI are weakening, resistance at 0.6869 for a move lower towards 0.6780, likely 0.6725. Above 0.6869 we look for 0.6920 in the immediate short-term.