Risk Sentiments Improved, Sterling Down on Election Uncertainty
Updated 10:13AM 02/12/2019
NZD and AUD are the top G10 FX gainers today, up 0.64% and 0.24% vs the dollar while GBP and JPY are the top losers, down -0.19% and -0.13% vs the dollar. The Australian and New Zealand dollars were buoyant while the Japanese yen fell to a six-month low after a rise in Chinese manufacturing activity unexpectedly.
The euro was flat ahead of a Christine Lagarde's testimony to the European parliament later on Monday. 
Sterling fell on Monday as polls showed a probability of a hung parliament. British PM Boris Johnson's Conservative Party lead over the Labour Party fell to 9 points
In the Asian equities space, the Nikkei 225 closed up 1.01% at 23,529.50, Hang Seng closed 0.37% at 26444.72 and Kospi ended 0.19% at 2091.92. The European equities were trading firm with the FTSE up +0.53% at 7385.68, DAX up +0.67% at 13324.51, and CAC up +0.46% at 5932.27. In the rates market, global yields were trading firmer; the US 10-year yield was trading at 1.8518% and the Bund 10-year yield trading at -0.282%. In the energy space, the Brent (front month) is trading down (-0.64%) for the day at $62.03.
Get Forex Data in Google Sheets
Daily Pivots for Key Currency Pairs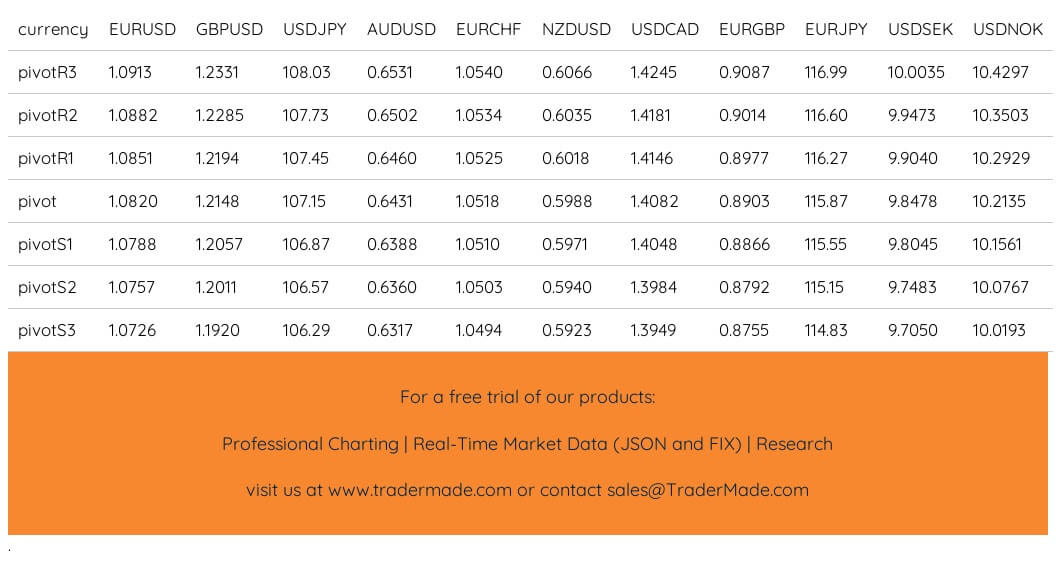 Economic Calendar
10-year Yields Chart (6-month)
Brent Front Month Daily Chart (6-month)
USD-Index Daily Chart (6-month)
Major Currency Pairs
EURUSD Chart (Two-week)
Strategy: Resistance at 1.1037 for 1.0950
Short-term view: EUR/USD resistance at 1.1037, MACD and RSI are weak. Hence, we see a move to 1.0950. Above 1.1037 to open 1.1094.
GBPUSD Chart (Two-week)
Strategy: Resistance at 1.2950, for 1.2850
Short-term view: GBP/USD resistance at 1.2950, MACD and RSI moving lower. Hence, we expect a dip to 1.2850. Above 1.2950 to open 1.3000
USDJPY Chart (Two-week)
Strategy: Resistance at 110.00 for 109.00
Short-term view: USD/JPY resistance at 110.00, RSI and MACD are moving lower. A move lower to 109.00 is likely. Above 110.00 to open 110.67
AUDUSD Chart (Two-week)
Strategy: Resistance at 0.6813 for 0.6740
Short-term view: AUD/USD MACD and RSI are weak and resistance at 0.6813. A move towards 0.6740, likely 0.6700. Above 0.6813 to open 0.6862.