Risk Sentiments Up, Sterling Down Here's Why
Updated 10:58AM 09/01/2020
USD and CHF are the top G10 FX gainers today while GBP and NOK are the top losers, down -0.55% and -0.35% vs the dollar. Safe-haven currencies such as the yen fell further on Thursday as the Iran-U.S. conflict eased and markets raised hopes of a U.S.-China trade deal. The de-escalation of conflict between U.S.-Iran was due to President Trump retaliating with sanctions rather than military action. Sterling plummeted to around two-week lows versus USD after BoE's Mark Carney said that a "relatively prompt response" may ensue if the weakness in the economy persists. In the Asian equities space, the Nikkei 225 closed up 2.31% at 23,739.87, Hang Seng closed 1.68% at 28561.0 and Kospi ended 1.63% at 2186.45. The European equities were trading firm with the FTSE up +0.53% at 7615.38, DAX up +1.18% at 13476.86, and CAC up +0.4% at 6055.23. In the rates market, global yields were trading mixed; the US 10-year yield was trading at 1.8703% and the Bund 10-year yield trading at -0.241%. In the energy space, the Brent (front month) is trading up (0.37%) for the day at $65.68.
Get Real-Time Forex Trade Ideas
Daily Pivots for Key Currency Pairs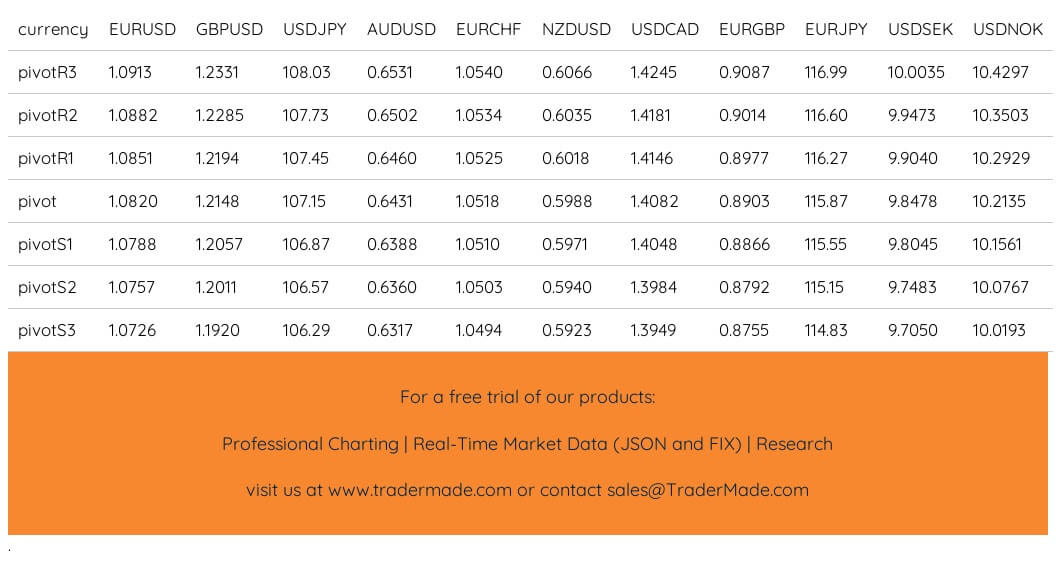 Economic Calendar

10-year Yields Chart (6-month)
Brent Front Month Daily Chart (6-month)
USD-Index Daily Chart (6-month)
Forex Chart and Technical Analysis
EURUSD Chart (Two-week)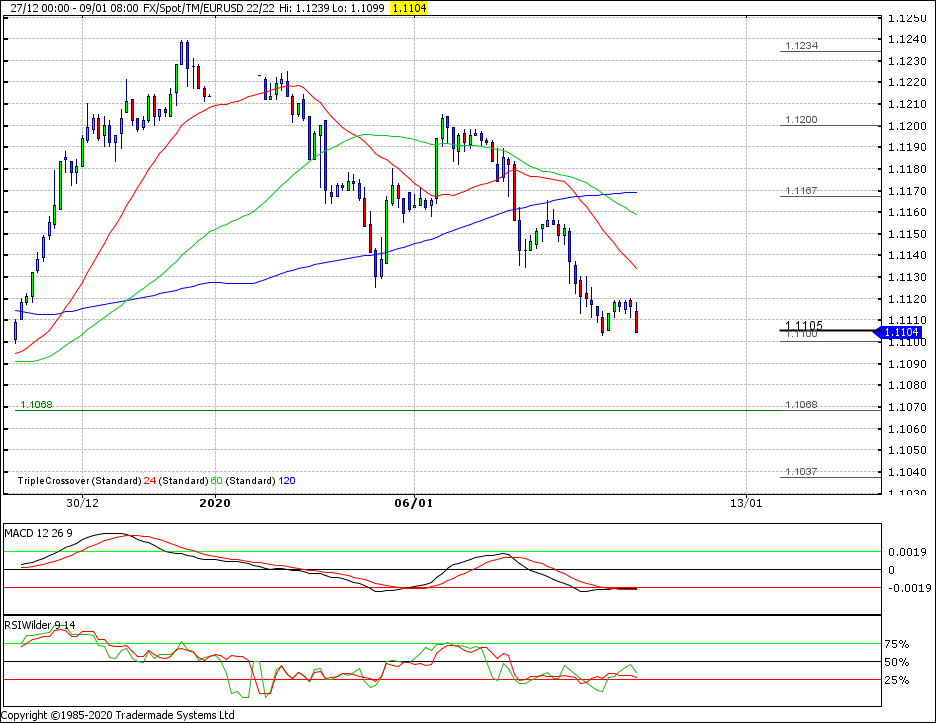 Strategy: Support at 1.1100 for 1.1167
Short-term view: EUR/USD support at 1.1100, MACD and RSI are flat. Hence, we see a move to 1.1167. Below 1.1100 to open 1.1068.
GBPUSD Chart (Two-week)
Strategy: Resistance at 1.3100, for 1.2950
Short-term view: GBP/USD resistance at 1.3100, MACD and RSI are weak. Hence, we expect a dip to 1.2950. Above 1.3100 to open 1.3150.
USDJPY Chart (Two-week)
Strategy: Support at 108.81 for 110.00
Short-term view: USD/JPY support at 108.81, RSI and MACD are improving. A move higher to 110.00 is likely. Below 108.81 to open 108.01
AUDUSD Chart (Two-week)
Strategy: Support at 0.6836 for 0.6950
Short-term view: AUD/USD MACD and RSI are bottoming out and support at 0.6836. A move towards 0.6950 is likely. Below 0.6836 to open 0.6780.