Spread of the Coronavirus Slows, RBNZ Surprises
Updated 10:04AM 12/02/2020
NZD and NOK are the top G10 FX gainers today, up 1.02% and 0.4% vs the dollar while JPY and USD are the top losers.
The dollar traded near a four-month high as the spread of the coronavirus slowed. China's Yuan moved up as reports emerged that the growth of coronavirus infections is at its slowest in over two weeks. Elsewhere, kiwi to dollar rate moved higher after RBNZ disappointed bears by dropping a bias towards reducing interest rates.
In the Asian equities space, the Nikkei 225 closed 0.74% higher at 23,861.21, Hang Seng closed 0.87% at 27823.66 and Kospi ended 0.69% at 2238.38. The European equities were trading firm with the FTSE up +0.24% at 7517.35, DAX up +0.56% at 13703.64, and CAC up +0.29% at 6072.41. In the rates market, global yields were trading firmer; the US 10-year yield was trading at 1.6247% and the Bund 10-year yield trading at -0.365%. In the energy space, the Brent (front month) is trading up (2.2%) for the day at $55.2.
Get Real Time Forex Trade Ideas
Economic Calendar
10-year Yields Daily Chart (6-month)
Daily FX Pivots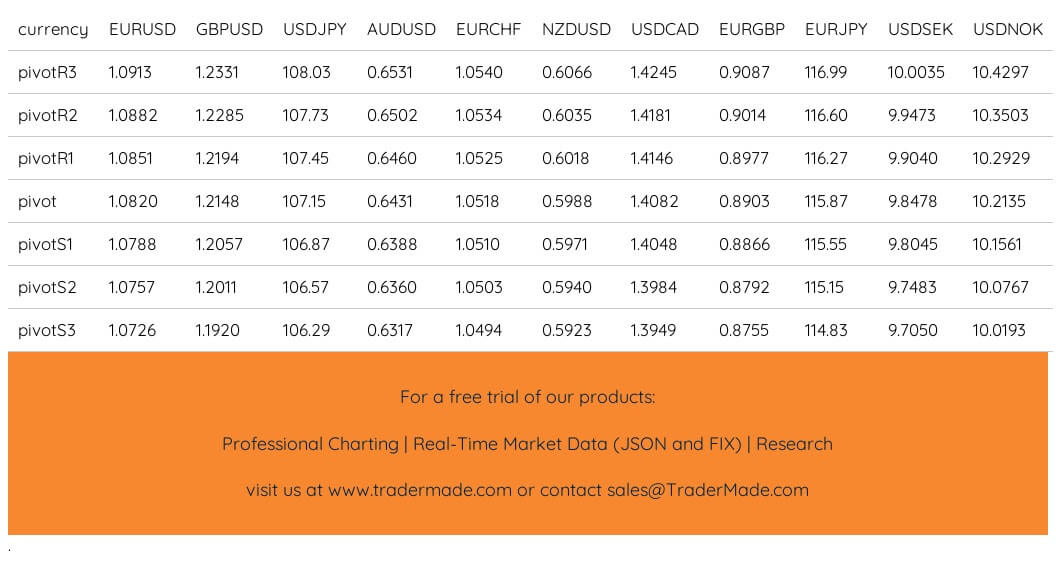 Brent Crude Daily Chart (1-month)
Forex Chart and Technical Analysis
EURUSD Chart (Two-week)
Strategy: Resistance at 1.0930 for 1.0896
Short-term view: EUR/USD resistance comes in at 1.093, MACD below zero and RSI is below 50. Hence we see a downside to 1.0896. Above 1.093 to open 1.0945
GBPUSD Chart (Two-week)
Strategy: Support at 1.2938 for 1.3013
Short-term view: GBP/USD support comes in at 1.2938, MACD crossover suggests a bullish bias and RSI is above 50. Hence we see an upside to 1.3013. Below 1.2938 to open 1.2908
USDJPY Chart (Two-week)
Strategy: Support at 109.74 for 110.24
Short-term view: USD/JPY support comes in at 109.74, MACD crossover suggests a bullish bias and RSI is above 50. Hence we see an upside to 110.24. Below 109.74 to open 109.6
AUDUSD Chart (Two-week)
Strategy: Support at 0.6711 for 0.6767
Short-term view: AUD/USD support comes in at 0.6711, MACD crossover suggests a bullish bias and RSI is above 50. Hence we see an upside to 0.6767. Below 0.6711 to open 0.6685