Sterling Fall and U.S. Dollar Rise for These Reasons
Updated 09:32AM 02/10/2019
JPY and USD are the top G10 FX gainers today while CHF and GBP are the top losers, down -0.62% and -0.54% vs the dollar. 
The U.S. dollar edged higher once again despite weak manufacturing data on Tuesday. U.S. manufacturing contracted at a faster rate, raising doubts over U.S. Trump's rhetoric of increasing domestic manufacturing amid a trade war between Beijing and Washington.
Sterling fell once again as concerns grew that PM Boris Johnson's plan to replace Irish backstops will not lead a Brexit deal with the EU. Johnson is expected to reveal his Brexit offer to the EU later today.
In the Asian equities space, the Nikkei 225 closed down -0.49% at 21,778.61, Hang Seng closed -0.19% at 26042.69 and Kospi ended -1.95% at 2031.91. The European equities were trading weaker with the FTSE down -1.45% at 7253.7, DAX down -1.01% at 12139.94, and CAC down -1.38% at 5520.23. In the rates market, global yields were trading mixed; the US 10-year yield was trading at 1.637% and the Bund 10-year yield trading at -0.544%. In the energy space, the Brent (front month) is trading down (-0.27%) for the day at $58.73.
Our New Free Forex Analysis Website is also a mobile app on Android devices https://research.tradermade.com/ Features live Forex Charts with 10+ indicators, Pivots, Forex News, ABCD Fibonacci Patterns, Intra-day Analysis for more than 20+ forex pairs, Movements vs USD, Candlestick Pattern Recognition, Market High/Low Alerts, Custom RSS News Feed.

Daily Pivots for Key Currency Pairs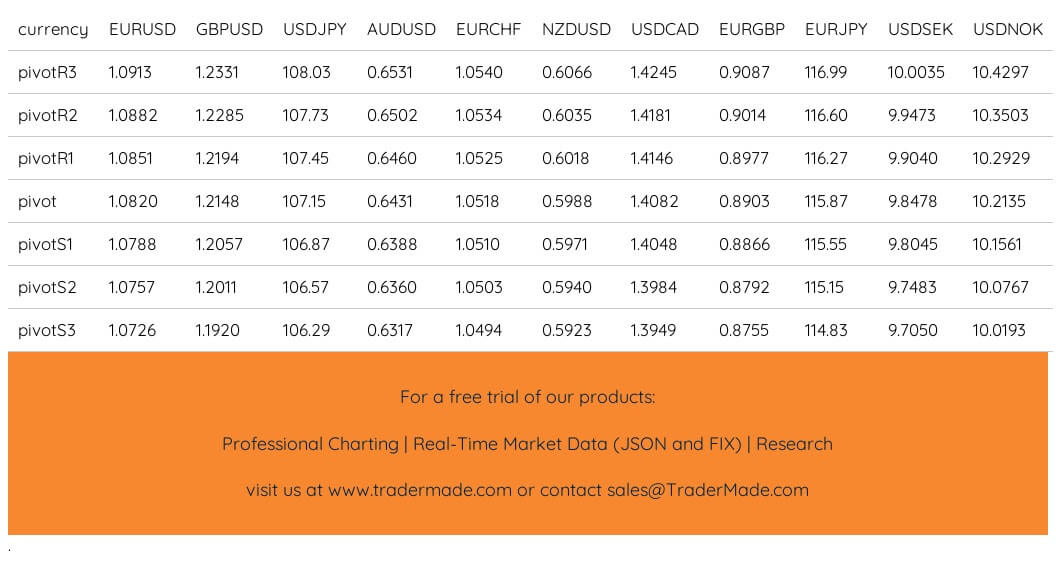 Economic Calendar
10-year Yields Chart (6-month)
USD-Index Daily Chart (6-month)
Brent Front Month Daily Chart (6-month)
Trade Weighted Basket Hourly (two-week)
Major Currency Pairs
EURUSD Chart (Two-week)
Strategy: Resistance at 1.0965 for 1.0840
Short-term view: EUR/USD resistance at 1.0965, MACD and RSI is giving mixed signal. Hence, we see a move to 1.0840. Above 1.0965 to open 1.1025.
GBPUSD Chart (Two-week)
Strategy: Resistance at 1.2300 for 1.2169
Short-term view: GBP/USD resistance at 1.2300, MACD and RSI are weak. We see risk of a dip to 1.2219, likely 1.2169. Above 1.2300 to open 1.2339.
USDJPY Chart (Two-week)
Strategy: Resistance at 108.01 for 107.05
Short-term view: USD/JPY has resistance around 108.01, MACD and RSI are weakening Hence, we see a move lower to 107.05. Above 108.01 opens 108.43.
AUDUSD Chart (Two-week)
Strategy: Resistance at 0.6725 for 0.6600
Short-term view: AUD/USD MACD and RSI are weakening, resistance at 0.6725 for a move lower towards 0.6600. Above 0.6725 we look for 0.6781.