Sterling Poised and USD Firm Here's Why
Updated 09:21AM 22/10/2019
NZD and SEK are the top G10 FX gainers today, up 0.16% and 0.1% vs the dollar while CHF and GBP are the top losers, down -0.27% and -0.17% vs the dollar. 
The Canadian dollar was largely unchanged after it became apparent that the Liberal government will be re-elected. Canadian PM Trudeau's Liberals will form a minority government.
U.S. Dollar started to firm as the market was positive on a Sino-U.S trade deal. Euro was steady after hitting a two-month high versus the dollar as the market waited for a vote on the withdrawal agreement in the British Parliament. PM Boris Johnson now faces two key votes in the parliament on Tuesday; parliamentarians will vote at about 1800 GMT on Boris's Withdrawal Agreement Bill and then on the timetable for approving the legislation.
 
In the Asian equities space, Hang Seng closed 0.23% at 26786.2 and Kospi ended 1.16% at 2088.86. The European equities were trading mixed with the FTSE 0.16% at 7175.42, DAX 0.03% at 12752.2, and CAC -0.44% at 5623.59. In the rates market, global yields were trading weaker; the US 10-year yield was trading at 1.773% and the Bund 10-year yield trading at -0.375%. In the energy space, the Brent (front month) is trading up (0.39%) for the day at $59.19.
Our New Free Forex Analysis Website is also a mobile app on Android devices https://research.tradermade.com/ Features live Forex Charts with 10+ indicators, Pivots, Forex News, ABCD Fibonacci Patterns, Intra-day Analysis for more than 20+ forex pairs, Movements vs USD, Candlestick Pattern Recognition, Market High/Low Alerts, Custom RSS News Feed.

Daily Pivots for Key Currency Pairs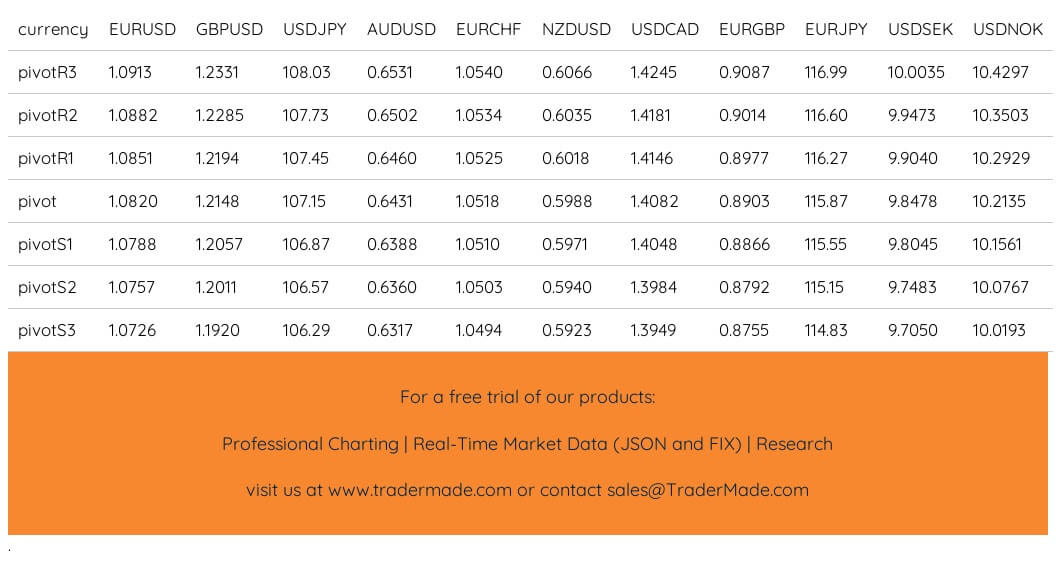 Economic Calendar
10-year Yields Chart (6-month)
Brent Front Month Daily Chart (6-month)
USD-Index Daily Chart (6-month)
Trade Weighted Basket Hourly (two-week)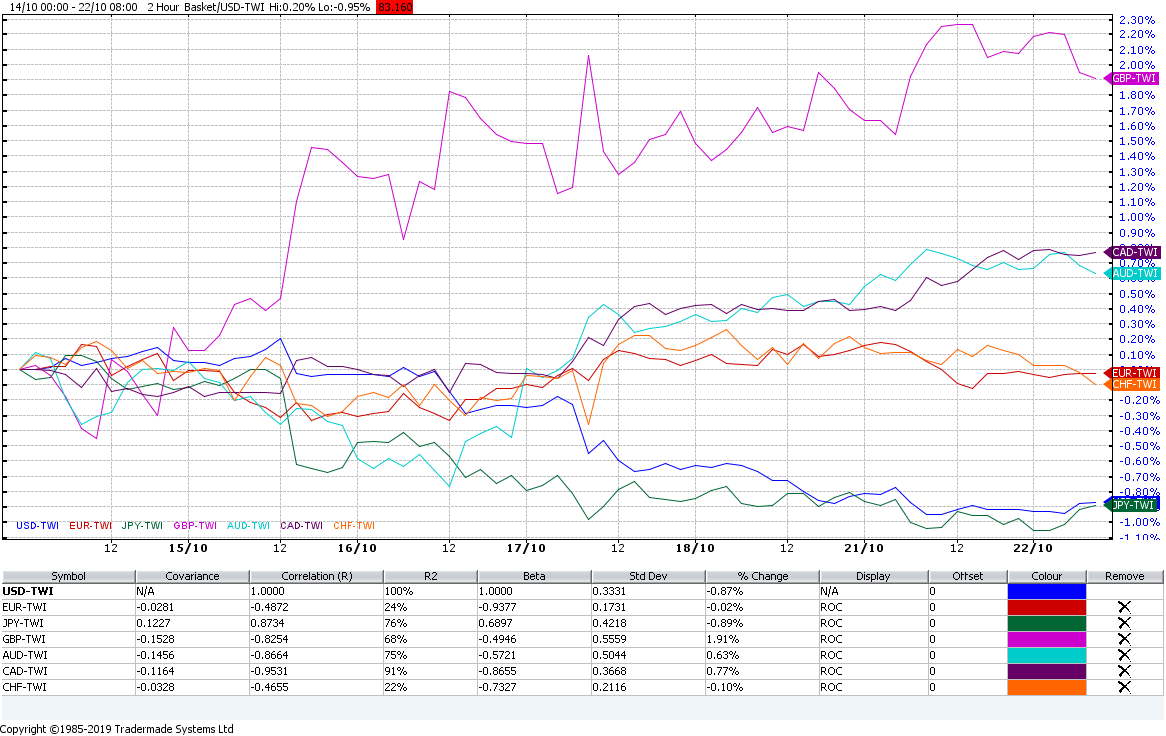 Major Currency Pairs
EURUSD Chart (Two-week)
Strategy: Resistance at 1.1167 for 1.1080
Short-term view: EUR/USD resistance at 1.1167, MACD and RSI are bearish. Hence, we see a move to 1.1097, likely 1.1050. Above 1.1167 to open 1.1200, likely 1.1234.
GBPUSD Chart (Two-week)
Strategy: Resistance at 1.3000 for 1.2850
Short-term view: GBP/USD resistance at 1.3000, MACD and RSI are weak. We see risk of a dip to 1.2850. Above 1.3000 to open 1.3060.
USDJPY Chart (Two-week)
Strategy: Resistance at 108.81 for 108.01
Short-term view: USD/JPY has resistance around 108.81, MACD and RSI are weak. Hence, we see a move lower to 108.01. Above 108.81 opens 109.15.
AUDUSD Chart (Two-week)
Strategy: Support at 0.6841 for 0.6920
Short-term view: AUD/USD MACD and RSI are mixed and support at 0.6841. A move towards 0.6920 likely. Below 0.6841 to open 0.6780.