Sterling Surge Post Election, What's Next
Updated 10:11AM 13/12/2019
GBP and NOK are the top G10 FX gainers today, up 1.9% and 0.67% vs the dollar while JPY and USD are the top losers. 
The British pound soared more than 2% hitting as Conservative Party won a thumping majority that raised investors hopes of an orderly Brexit from the EU. Sterling hit a 19-month high of $1.3514 versus the dollar and its strongest versus the euro since after the Brexit referendum in 2016. The jump in sterling was its biggest one day rise in over three years. 
The market sentiments were overall positive with reports of a China-US trade deal (to be confirmed on 15 December) and improved chances of Brexit post-British election. 
In the Asian equities space, the Nikkei 225 closed 2.55% higher at 24,023.10, Hang Seng closed 2.57% at 27687.76 and Kospi ended 1.54% at 2170.25. The European equities were trading firm with the FTSE up +1.67% at 7394.91, DAX up +1.2% at 13380.34, and CAC up +1.12% at 5949.9. In the rates market, global yields were trading mixed; the US 10-year yield was trading at 1.894% and the Bund 10-year yield trading at -0.242%. In the energy space, the Brent (front month) is trading up (1.04%) for the day at $64.87.
Get Real-Time Forex Trade Ideas
Daily Pivots for Key Currency Pairs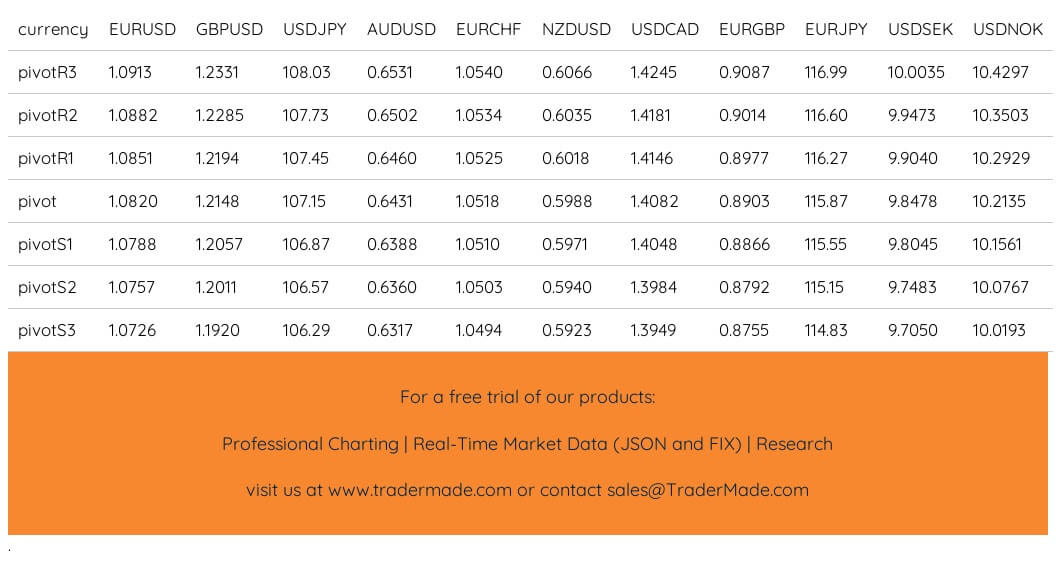 Economic Calendar
10-year Yields Chart (6-month)
Brent Front Month Daily Chart (6-month)
USD-Index Daily Chart (6-month)
Major Currency Pairs
EURUSD Chart (Two-week)
Strategy: Support at 1.1136 for 1.1234
Short-term view: EUR/USD support at 1.1136, MACD and RSI is strong. Hence, we see a move to 1.1200, likely 1.1234. Below 1.1136 to open 1.1068.
GBPUSD Chart (Two-week)
Strategy: Support at 1.3296, for 1.3487
Short-term view: GBP/USD support at 1.3296, MACD and RSI are improving. Hence, we expect a bounce to 1.3487. Below 1.3296 to open 1.3222.
USDJPY Chart (Two-week)
Strategy: Resistance at 110.00 for 109.00
Short-term view: USD/JPY resistance at 110.00, RSI and MACD are topping out. A move lower to 109.00 is likely. Above 110.00 to open 110.67
AUDUSD Chart (Two-week)
Strategy: Resistance at 0.6950 for 0.6862
Short-term view: AUD/USD MACD and RSI are topping out and resistance at 0.6950. A move towards 0.6862 is likely. Above 0.6950 to open 0.6983.