Sterling Woes Return and U.S Dollar Improved for These Reasons
Updated 09:08AM 18/12/2019
JPY and NOK are the top G10 FX gainers today, up 0.08% and -0.02% vs the dollar while NZD and SEK are the top losers, down -0.21% and -0.19% vs the dollar. The British pound extended the slide as fixing a new deadline on Brexit raised fears of a disorderly exit of the U.K from the EU. The pound to dollar rate has plummeted 3+% since the euphoric high of $1.3516 seen during the election results, in our view, we may see a choppy range for Sterling heading into the year-end with risk skewed to the downside from hard Brexit rhetoric. Elsewhere, U.S. the dollar recovered with Asian currencies subdued amid slightly negative sentiments. There was no news on the China-U.S. trade deal according to the Chinese Foreign ministry. In the Asian equities space, the Nikkei 225 closed -0.55% lower at 23,934.43, Hang Seng closed 0.15% at 27884.21 and Kospi ended -0.04% at 2194.76. The European equities were trading weak with the FTSE -0.01% at 7526.04, DAX -0.25% at 13254.67, and CAC -0.06% at 5964.53. In the rates market, global yields were trading weaker; the US 10-year yield was trading at 1.8662% and the Bund 10-year yield trading at -0.294%. In the energy space, the Brent (front month) is trading down (-0.53%) for the day at $65.75.
To See Harmonic Pattern Visit Forex Alerts
Daily Pivots for Key Currency Pairs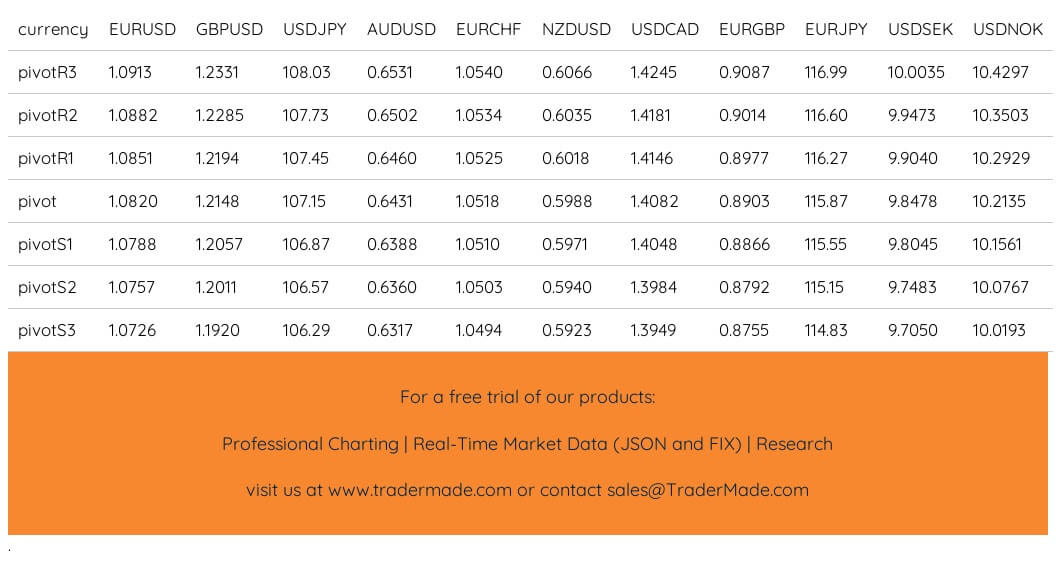 Economic Calendar
10-year Yields Chart (6-month)
Brent Front Month Daily Chart (6-month)
USD-Index Daily Chart (6-month)
Forex Chart and Technical Analysis
EURUSD Chart (Two-week)
Strategy: Resistance at 1.1167 for 1.1068
Short-term view: EUR/USD resistance at 1.1167, MACD and RSI are weak. Hence, we see a move to 1.1100, likely 1.1068. Above 1.1167 to open 1.1200.
GBPUSD Chart (Two-week)
Strategy: Support at 1.3075, for 1.3222
Short-term view: GBP/USD support at 1.3075, MACD and RSI are oversold. Hence, we expect a bounce to 1.3222. Below 1.3075 to open 1.3000.
USDJPY Chart (Two-week)
Strategy: Resistance at 110.00 for 109.00
Short-term view: USD/JPY resistance at 110.00, RSI and MACD are topping out. A move lower to 109.00 is likely. Above 110.00 to open 110.67
AUDUSD Chart (Two-week)
Strategy: Support at 0.6836 for 0.6920
Short-term view: AUD/USD MACD and RSI are improving and support at 0.6836. A move towards 0.6920 is likely. Below 0.6836 to open 0.6780.