Trade Wars Escalate Here's How
Updated 08:20AM 09/10/2019
NZD and EUR are the top G10 FX gainers today, up 0.25% and 0.23% vs the dollar while JPY and USD are the top losers. The U.S. dollar was trading slightly weaker and hopes of a breakthrough in U.S-China trade talks also dived with the U.S. banning Chinese companies and imposing visa restrictions on Chinese officials over the issue of Muslim minorities. Yuan traded at a one-month low as trade tensions rose ahead of key Sino-U.S. trade talks.
In the Asian equities space, the Nikkei 225 closed down 0.61% at 21,456.38 and Hang Seng closed -0.62% at 25732.38. The European equities were trading firm with the FTSE up +0.35% at 7168.2, DAX up +0.53% at 12033.08, and CAC up +0.31% at 5473.76.
In the rates market, global yields were trading firmer; the US 10-year yield was trading at 1.5425% and the Bund 10-year yield trading at -0.575%. In the energy space, the Brent (front month) is trading down (-0.03%) for the day at $58.22.
Our New Free Forex Analysis Website is also a mobile app on Android devices https://research.tradermade.com/ Features live Forex Charts with 10+ indicators, Pivots, Forex News, ABCD Fibonacci Patterns, Intra-day Analysis for more than 20+ forex pairs, Movements vs USD, Candlestick Pattern Recognition, Market High/Low Alerts, Custom RSS News Feed.

Daily Pivots for Key Currency Pairs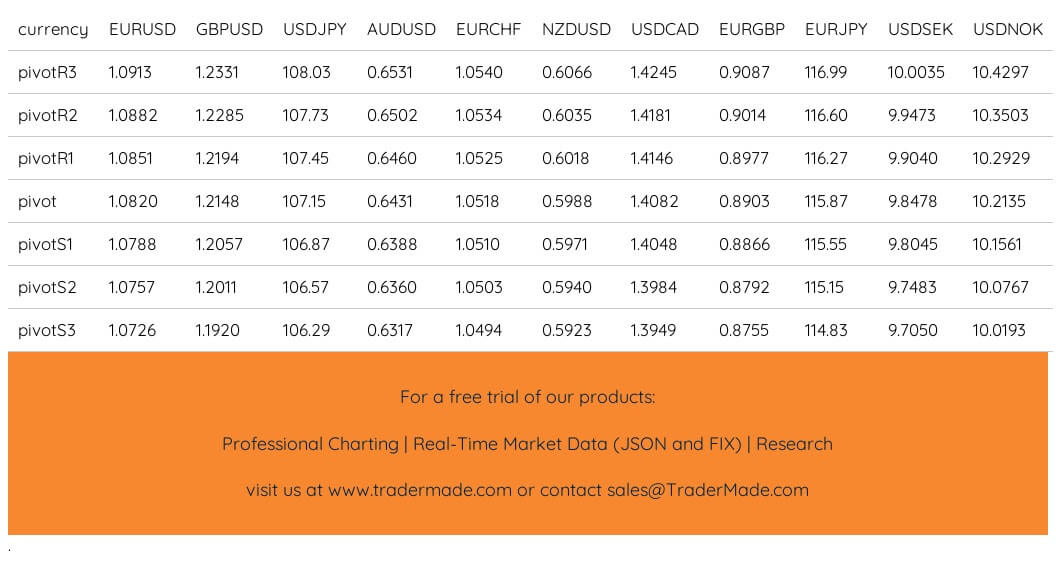 Economic Calendar
10-year Yields Chart (6-month)
USD-Index Daily Chart (6-month)
Trade Weighted Basket Hourly (two-week)
Major Currency Pairs
EURUSD Chart (Two-week)
Strategy: Resistance at 1.1025 for 1.0900
Short-term view: EUR/USD resistance at 1.1025, MACD and RSI are weak. Hence, we see a move to 1.0900. Above 1.1025 to open 1.1085.
GBPUSD Chart (Two-week)
Strategy: Resistance at 1.2265 for 1.2169
Short-term view: GBP/USD resistance at 1.2265, MACD and RSI are weakening. We see risk of a dip to 1.2169. Above 1.2265 to open 1.2325.
USDJPY Chart (Two-week)
Strategy: Resistance at 107.48 for 106.80
Short-term view: USD/JPY has resistance around 107.48, MACD and RSI lack upside momentum. Hence, we see a move lower to 106.80, likely 106.40. Above 107.48 opens 108.01.
AUDUSD Chart (Two-week)
Strategy: Resistance at 0.6781 for 0.6700
Short-term view: AUD/USD MACD and RSI are weakening, resistance at 0.6780 for a move lower towards 0.6700, likely 0.6650. Above 0.6781 we look for 0.6830.