U.S.-China negotiates trade, EU Mulls Brexit Delay
Updated 09:06AM 25/10/2019
AUD and EUR are the top G10 FX gainers today, up 0.21% and 0.14% vs the dollar while NZD and NOK are the top losers, down -0.25% and -0.18% vs the dollar. 
In the Sino-U.S. trade conflict, China will discuss with the U.S. plans to buy more farm products in return for the cancellation of some planned and existing tariffs. The discussion will happen over the phone to calm the 16-month long dispute which has unnerved financial markets over global growth and has prompted Central banks to ease more.
The Brexit saga continued with the EU starting the discussion on the length of another Brexit delay. PM Boris Johnson has finally admitted that he would not meet his deadline of 31st October. Johnson now wants a 12th December Election and Opposition leader Jeremy Corbyn also agrees but Corbyn wants to first wait and see the EU reply.
In the Asian equities space, the Nikkei 225 closed 0.22% higher at 22,799.81, Hang Seng closed -0.49% at 26667.39 and Kospi ended 0.11% at 2087.89. The European equities were trading mixed with the FTSE -0.28% at 7307.98, DAX -0.15% at 12852.53, and CAC 0.04% at 5686.46. In the rates market, global yields were trading firmer; the US 10-year yield was trading at 1.7679% and the Bund 10-year yield trading at -0.386%. In the energy space, the Brent (front month) is trading down (-0.55%) for the day at $61.33.
Our Free Forex Website at https://research.tradermade.com/.
Latest Forex-alerts at
Daily Pivots for Key Currency Pairs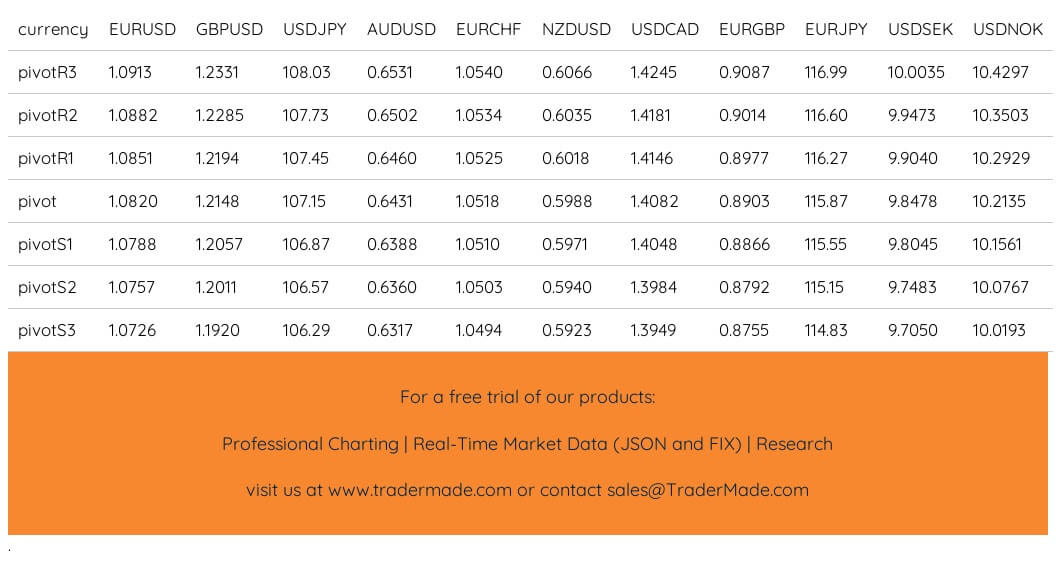 Economic Calendar
10-year Yields Chart (6-month)
Brent Front Month Daily Chart (6-month)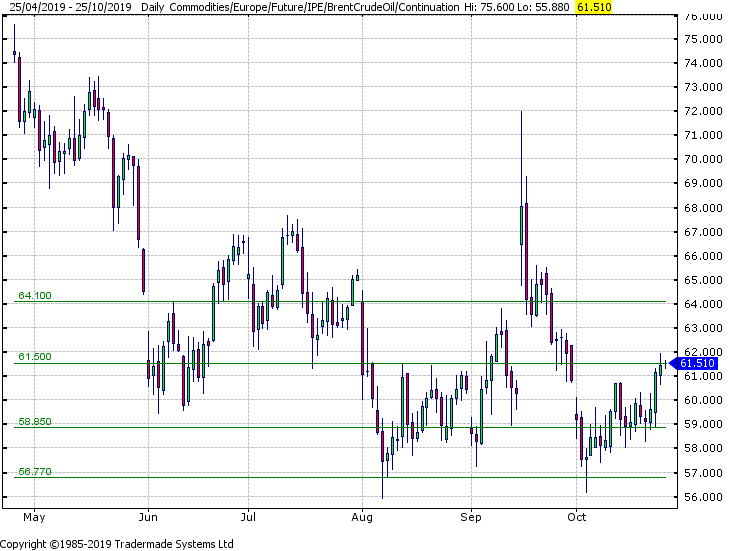 USD-Index Daily Chart (6-month)
Major Currency Pairs
EURUSD Chart (Two-week)
Strategy: Resistance at 1.1136 for 1.1050
Short-term view: EUR/USD resistance at 1.1136, MACD and RSI are bearish. Hence, we see a move to 1.1050. Above 1.1036 to open 1.1167, likely 1.1200.
GBPUSD Chart (Two-week)
Strategy: Resistance at 1.2900 for 1.2750
Short-term view: GBP/USD resistance at 1.2900, MACD and RSI are weak. We see risk of a dip to 1.2750. Above 1.2900 to open 1.3000.
USDJPY Chart (Two-week)
Strategy: Resistance at 108.81 for 108.11
Short-term view: USD/JPY has resistance around 108.60, MACD and RSI are weak. Hence, we see a move lower to 108.11. Above 108.81 opens 109.15.
AUDUSD Chart (Two-week)
Strategy: Resistance at 0.6869 for 0.6780
Short-term view: AUD/USD MACD and RSI are weak and resistance at 0.6869. A move towards 0.6780 likely. Above 0.6862 to open 0.6920.