US Non-Farm-Payrolls and Forex Outlook Ahead
Updated 09:08AM 04/10/2019
NZD and AUD are the top G10 FX gainers today, up 0.41% and 0.22% vs the dollar while USD and NOK are the top losers. 
The U.S. dollar is likely to strengthen over the coming weeks amid weak global trade conditions and trade wars with the EU and China. The U.S. NFP is due later today and with a 90% probability of a Fed rate at the end of October priced in we expect upside risk to USD.
The yuan weakness continued hitting new decade lows, it is difficult to see much resolution to the trade wars at the next week talks amid falling Renminbi. Chinese markets will close until Thursday for public holidays.
The Australian and New Zealand dollar are still vulnerable and we expect upside to be limited as RBA and RBNZ are likely to deliver more monetary policy easing over the coming months.
In the Asian equities space, the Nikkei 225 closed up 0.32% at 21,410.20, Hang Seng closed -1.11% at 25821.03 and Kospi ended -0.55% at 2020.69. The European equities were trading firm with the FTSE up +0.34% at 7101.4, DAX up +0.02% at 11928.05, and CAC up +0.19% at 5448.99. In the rates market, global yields were trading weaker; the US 10-year yield was trading at 1.5238% and the Bund 10-year yield trading at -0.594%. In the energy space, the Brent (front month) is trading up (0.62%) for the day at $58.07.
Our New Free Forex Analysis Website is also a mobile app on Android devices https://research.tradermade.com/ Features live Forex Charts with 10+ indicators, Pivots, Forex News, ABCD Fibonacci Patterns, Intra-day Analysis for more than 20+ forex pairs, Movements vs USD, Candlestick Pattern Recognition, Market High/Low Alerts, Custom RSS News Feed.

Daily Pivots for Key Currency Pairs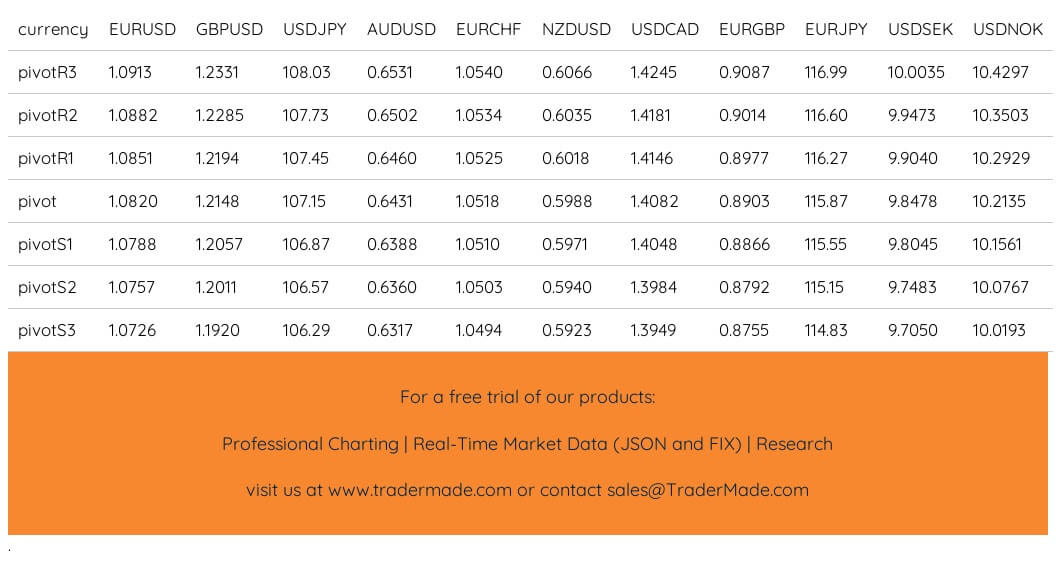 Economic Calendar
10-year Yields Chart (6-month)
Brent Front Month Daily Chart (6-month)
Trade Weighted Basket Hourly (two-week)
Major Currency Pairs
EURUSD Chart (Two-week)
Strategy: Resistance at 1.1025 for 1.0900
Short-term view: EUR/USD resistance at 1.1025, MACD and RSI is giving mixed signal. Hence, we see a move to 1.0900. Above 1.1025 to open 1.1085.
GBPUSD Chart (Two-week)
Strategy: Resistance at 1.2381 for 1.2265
Short-term view: GBP/USD resistance at 1.2381, MACD and RSI are diverging. We see risk of a dip to 1.2265. Above 1.2339 to open 1.2433.
USDJPY Chart (Two-week)
Strategy: Resistance at 107.05 for 106.40
Short-term view: USD/JPY has resistance around 107.05, MACD and RSI are weak. Hence, we see a move lower to 106.40. Above 107.05 opens 107.48.
AUDUSD Chart (Two-week)
Strategy: Resistance at 0.6781 for 0.6700
Short-term view: AUD/USD MACD and RSI are improving but lack upside momentum, resistance at 0.6780 for a move lower towards 0.6700, likely 0.6650. Above 0.6781 we look for 0.6830.