What is Riskbank Signalling to ECB?
Updated 10:18AM 19/12/2019
NOK and SEK are the top G10 FX gainers today, up 0.61% and 0.38% vs the dollar while CHF and JPY are the top losers, down -0.05% and -0.03% vs the dollar. U.S. dollar was down slightly on Thursday with the U.S. President Donald Trump's impeachment having very little impact on the reserve currency. Elsewhere, the Riksbank exited negative rates bringing interest rates to 0%; Euro to Swedish Crown rate was little changed as the move was on expected lines. Riksbank move is interesting because it comes despite sluggish growth prospects. In our view, Sweden's Central bank is trying to tell the ECB that its time to make a move away from the negative rates. In the Asian equities space, the Nikkei 225 closed -0.29% at 23,864.85, Hang Seng closed -0.3% at 27800.49 and Kospi ended 0.08% at 2196.56. The European equities were trading mixed with the FTSE 0.15% at 7551.91, DAX -0.19% at 13196.52, and CAC -0.02% at 5958.48. In the rates market, global yields were trading firmer; the US 10-year yield was trading at 1.9468% and the Bund 10-year yield trading at -0.22%. In the energy space, the Brent (front month) is trading up (0.18%) for the day at $66.29.
Get Real-Time Forex Trade Ideas
Daily Pivots for Key Currency Pairs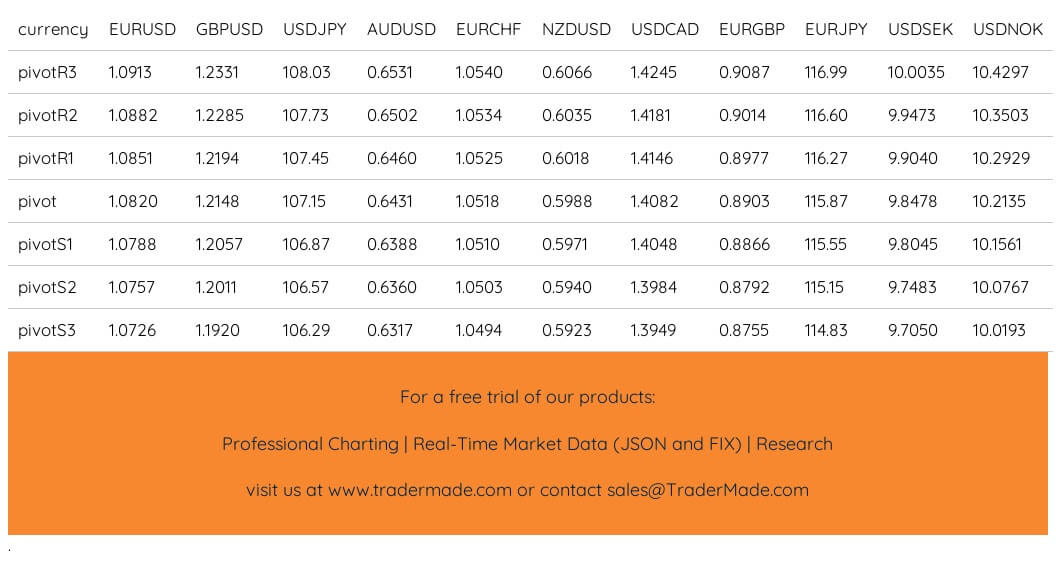 Economic Calendar
10-year Yields Chart (6-month)
Brent Front Month Daily Chart (6-month)
USD-Index Daily Chart (6-month)
Forex Chart and Technical Analysis
EURUSD Chart (Two-week)
Strategy: Resistance at 1.1167 for 1.1068
Short-term view: EUR/USD resistance at 1.1167, MACD and RSI are weak. Hence, we see a move to 1.1100, likely 1.1068. Above 1.1167 to open 1.1200.
GBPUSD Chart (Two-week)
Strategy: Support at 1.3050, for 1.3222
Short-term view: GBP/USD support at 1.3050, MACD and RSI are improving. Hence, we expect a bounce to 1.3222. Below 1.3050 to open 1.3000.
USDJPY Chart (Two-week)
Strategy: Resistance at 110.00 for 109.00
Short-term view: USD/JPY resistance at 110.00, RSI and MACD are flat. A move lower to 109.00 is likely. Above 110.00 to open 110.67
AUDUSD Chart (Two-week)
Strategy: Support at 0.6836 for 0.6920
Short-term view: AUD/USD MACD and RSI are improving and support at 0.6836. A move towards 0.6920 is likely. Below 0.6836 to open 0.6780.