What to expect from the ECB and the EURO
Updated 09:15AM 12/09/2019
NZD and AUD are the top G10 FX gainers today, up 0.53% and 0.36% vs the dollar while JPY and USD are the top losers.
Euro fell to around 1.10 versus the dollar ahead of the ECB meeting later today where the market expects a fresh stimulus. We expect a cut to the deposit rate by 10 bp and announcement of a quantitative easing with monthly purchases less than the market expectations. EURUSD and EURGBP levels to watch on the downside is 1.0900 and 0.8900, respectively.
AUD continued its ascent as more positive news emerged on the U.S.-China trade war: Beijing exempted some of the U.S. goods from tariffs, while U.S. President Trump tweeted he will delay October tariff hike by two weeks.
Sterling also remained near multi-week highs as fears of a no-deal Brexit remained low.
In the Asian equities space, the Nikkei 225 closed up 0.75% at 21,759.61 and Hang Seng closed -0.24% at 27094.53. The European equities were trading firm with the FTSE up +0.4% at 7367.23, DAX up +0.27% at 12392.61, and CAC up +0.22% at 5630.29. In the rates market, global yields were trading weaker; the US 10-year yield was trading at 1.7213% and the Bund 10-year yield trading at -0.586%. In the energy space, the Brent (front month) is trading up (0.35%) for the day at $61.02.
Free Forex portal at https://research.tradermade.com/ Features live Quotes Board, Intra-day Analysis for more than 20+ forex pairs, Movements v USD, Candlestick Pattern Recognition, Market High/Low Alerts, Custom RSS News Feed.

Daily Pivots for Key Currency Pairs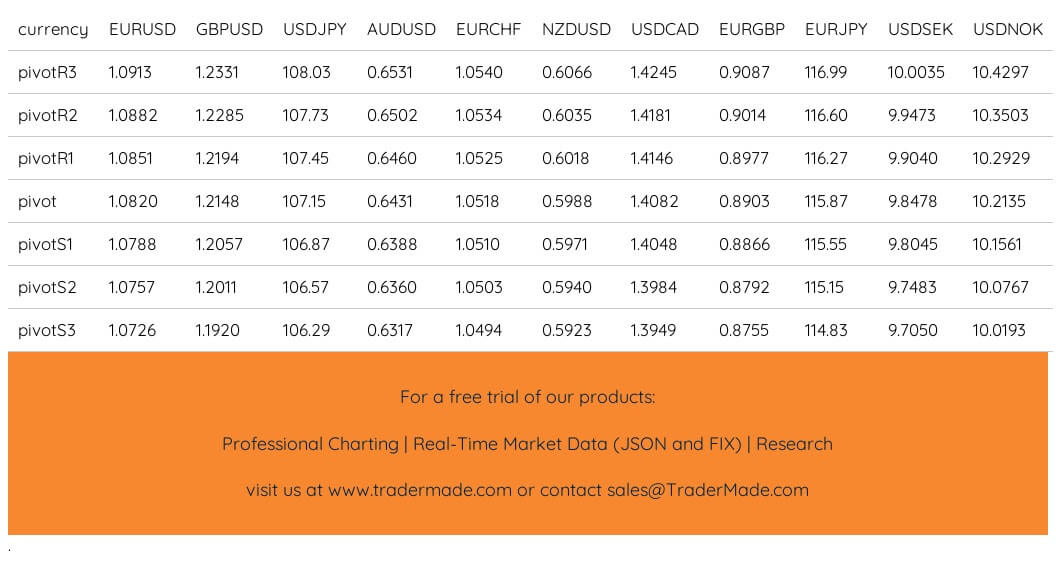 Economic Calendar
10-year Yields Chart (6-month)
USD-Index Daily Chart (6-month)
Brent Front Month Daily Chart (6-month)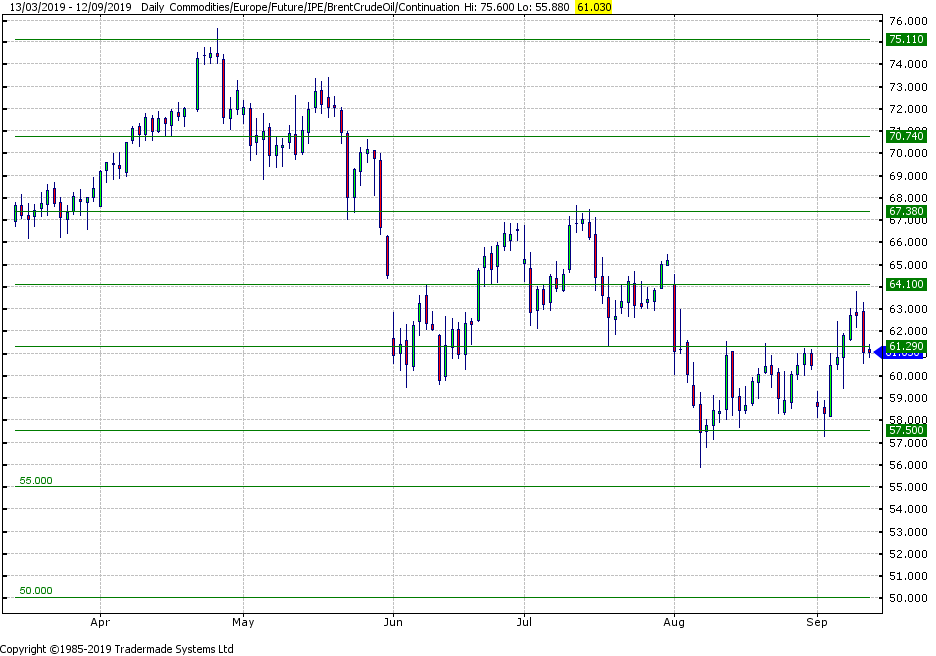 Trade Weighted Basket Hourly (two-week)
Major Currency Pairs
EURUSD Chart (Two-week)
Strategy: Resistance at 1.1062 for 1.0975
Short-term view: EUR/USD resistance at 1.1062, MACD and RSI are weak. Hence, we see a move to 1.0975, likely 1.0903. Above 1.1062 to open 1.1120.
GBPUSD Chart (Two-week)
Strategy: Resistance at 1.2381 for 1.2219
Short-term view: GBP/USD resistance at 1.2381, MACD and RSI are weakening. We see risk of a dip to 1.2265, possibly 1.2219. Above 1.2381 to open 1.2433
USDJPY Chart (Two-week)
Strategy: Resistance at 108.01 for 107.48
Short-term view: USD/JPY has resistance around 108.01, MACD and RSI are topping out, Hence, we see a move lower to 107.48, likely 107.05. Above 108.01 opens 108.43
AUDUSD Chart (Two-week)
Strategy: Resistance at 0.6920 for 0.6830
Short-term view: AUD/USD MACD and RSI are weakening, resistance at 0.6920 for a move lower towards 0.6830, likely 0.6780. Above 0.6920 we look for 0.6950 in the immediate short-term.