Back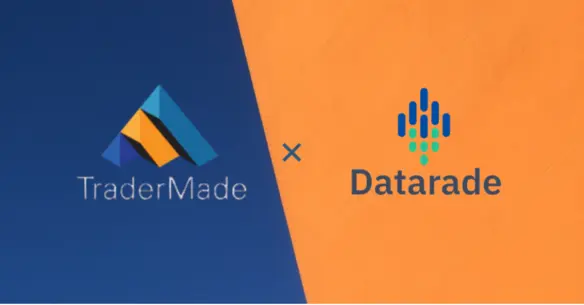 TraderMade Teams Up with Datarade to Meet Demand for Market-Leading FX Data
07 January 2021
---
January 6, 2021
London, UK / Berlin, Germany, Jan. 6, 2021 - Real-time forex data provider TraderMade has joined Datarade, the fastest-growing global e-commerce platform for commercial datasets. Datarade's tens of thousands of data buyers from every industry can now effortlessly discover, compare, and get access to TraderMade's data products.
TraderMade is a market-leading vendor of fintech solutions supported by a first-rate customer service team. TraderMade provides Forex Data solutions for traders, analysts and developers globally and has been doing so since 1984. Alongside the company's live streaming data delivery options (FIX API & WebSocket), TraderMade also has one of the largest libraries of historical FX minute data in existence, which is perfect for back-testing trading ideas or as an independent third-party price verification source. Historical tick data is also available from July 2016.
"With our quality and trusted FX solutions being used by Institutional and Banking customers, it makes perfect sense to extend our reach into other areas of the Fintech world and beyond. Our live streaming and historical tick data options add huge value to the growing AI and Machine Learning community which we are very excited about. This partnership with Datarade means that more customers can experience first-hand the benefits of non-skewed data for virtually any business purpose." - Chris Randall, CEO, TraderMade. 
Since the inception of the company in the eighties, TraderMade has only dealt with tier one and two banks, market-makers and data providers to ensure that customers only receive quality and trusted FX data. TraderMade data is popular with quantitative traders and data professionals that demand a non-skewed FX feed.
"Our data marketplace is seeing the demand for best-in-class forex data increase every month. TraderMade's API offers both live and historical exchange information, and so is helping to meet our clients' diverse data needs. TraderMade is a great company to partner with, because they share Datarade's mission: providing trustworthy, transparent data to users across the world." - Richard Hoffmann, Co-Founder and CCO, Datarade.
TraderMade also provides market-leading FX Analysis and Research for institutional clients. Because TraderMade has fewer restrictions on the display use of its financial data, TraderMade encourages entrepreneurs and disruptors to integrate its market-leading data options into their applications, websites and GUIs, knowing that TraderMade has the development experience to help and assist when necessary.
Current TraderMade clients include banks, institutions, brokers, fintech and startups that consume the company's data for a variety of business purposes.
About TraderMade
TraderMade was founded in 1984 and has always been based in London, United Kingdom. The company's mission is to work hard to deliver services to clients with unrivaled data, robust applications and informative accurate analytics. TraderMade's vision is to deliver technology simply, quickly and reliably therefore enabling our customers to create something amazing. The company has customers from all areas of the industry including the T1 banks, brokers and hedge funds, traders and private individuals. TraderMade provides real-time data API and cutting edge technologies to help companies and people to power their advanced models and algorithms.
Contact:
Name: Ian Sissons, Business Operations 
Email: ian.sissons@tradermade.com
Phone: +44 (0)20 8313 0992
Address: Kingfisher House, 21-23 Elmfield Road, Bromley, Kent, BR1 1LT, United Kingdom
About Datarade
Datarade is the world's fastest-growing e-commerce platform for data. With a persistent focus on crafting the ultimate data shopping experience, Datarade has helped thousands of data buyers find the right data for their business, effortlessly. More than 2,000 data providers across 300+ data categories are already listed on Datarade, enabling organizations across industries to connect with trusted providers and access the best datasets and APIs. Datarade was founded in 2018 and is headquartered in Berlin, Germany.
Contact:
Name: Lucy Kelly, Growth Marketing
Email: pr@datarade.net
Phone: +49-30-3119-8087
Address: Brunnenstr. 196, 10119 Berlin, Germany
Website: https://datarade.ai/