How To Start a WebSocket Trial and Subscription Plan
The process of starting a WebSocket trial is very simple, just follow these easy steps;
1)     Sign and create an account using this link https://marketdata.tradermade.com/signup and you'll be sent a welcome email. Or if you already are registered with us, use this link https://marketdata.tradermade.com/login
2)     Now you will see your Dashboard, from here you can look at the Documentation for both WebSocket and REST API options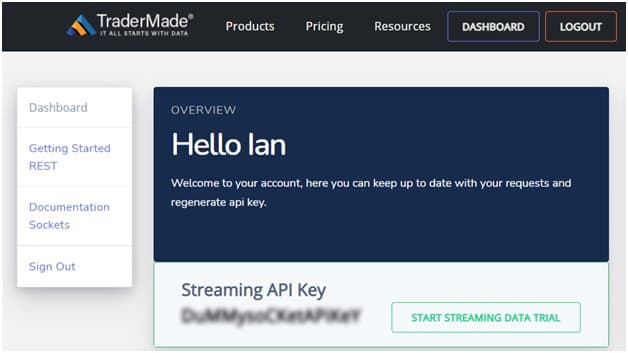 3)     Now you can start your WebSocket trial which last for 14 days. Just click on "Start Streaming Data Trial"

4)     Depending on your preference, you can choose traditional WebSocket or Socket.io, just click on your preferred option

5)     Your unique API Key has now been created
Just follow the simple Tutorials for either WebSocket or Socket.io and connect to the data. Now you can trial TraderMade's live data streaming WebSocket in over 50 FX Pairs, over a dozen Equity CFDs, Cryptocurrencies, Stocks and Precious Metals 
6)     During your trial you can subscribe to a paid plan from your Dashboard – just click "See Streaming API Pricing"

7)     From here you can choose your plan, either "Professional", "Business" or "Advanced" depending on the coverage you require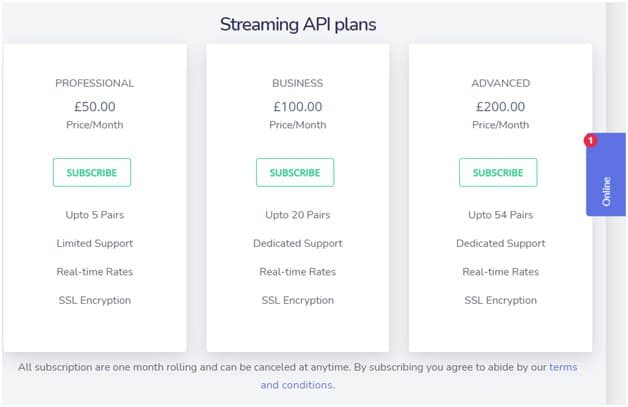 8)     A secure payment page will appear, just enter your payment details and press "Subscribe". Prices start from only £50 per month for 5 instruments on a rolling monthly basis which can be cancelled at any time from your Dashboard.
Our team are available to help you with any questions, email us or call +44 (0)20 8313 0992 or live chat with one of the team.
Related Posts
No entries have been created yet.