Back
TraderMade Launches Chainlink Node to Provide DeFi With Premium Financial Index Data
09 August 2021
---
We are excited to announce that TraderMade has launched our own Chainlink node live on the main net, giving Smart Contract Applications on-chain access to our premium financial market data, starting with real-time prices for CFDs that track financial indexes and CFDs that track commodities futures. Developers and dApps can now call the TraderMade Chainlink node to obtain these data feeds and use them within various data-driven Decentralized Finance (DeFi) products such as to settle futures markets, price asset swaps, or determine the outcome of prediction markets.
As the most widely-used and time-tested oracle solution in the blockchain industry, Chainlink provides a secure and fully functional middleware that gets our existing APIs compatible with the leading blockchain networks. By operating a Chainlink node, we now have a single gateway to supply our data to any current or future blockchain, as well as cryptographically sign our data on-chain to prove that it originated from TraderMade. The setup process was quick and seamless, ultimately exposing our data to an expansive emerging market in DeFi with very little integration work on our end.
For more information on why we selected Chainlink, read our previous announcement to explore this topic in detail. If you are a developer and want to learn how to access our node, visit the following Chainlink documentation: https://market.link/data-providers/1f80a87d-f2dd-44d1-b1a9-7e9ee48579bc/integrations.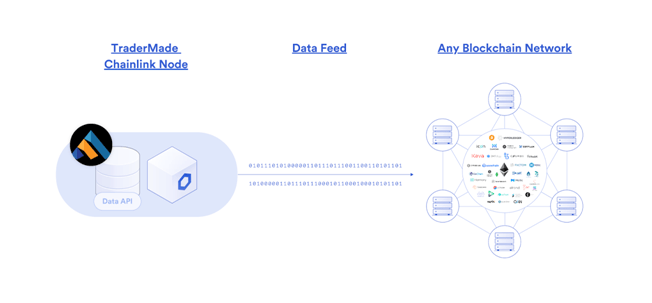 TraderMade is a market-leading vendor of fintech solutions, supported by a first-rate customer service team. TraderMade's Forex API provides rates for over 40+ fiat currencies, cryptocurrencies, precious metals, commodities and equity indices. It features over 1,700 currency trading pairs, live spot rates (Bid, Ask, and Mid rate), historical currency rates (Open, High, Low, and Close), live streaming data updated to the millisecond, historical FX rates that go back to 1990, proprietary aggregated feeds, Tier 1 bank rates, and more.
Through Chainlink, we can continue making our premium and high-uptime datasets available to DeFi and the wider smart contract economy to suffice growing demand. This will enable the creation of many innovative financial products and markets built upon new data-driven decentralized financial infrastructure that is more fair, transparent, and accessible to everyone around the world.
"We're thrilled to launch a live node on the growing Chainlink Network and give smart contract developers the ability to obtain premium financial data from the TraderMade APIs," said Chris Randall, CEO & CTO of TraderMade. "Now we can directly integrate with DeFi projects and support new decentralized financial markets by provisioning the high-quality data they need to price and settle contracts. The Chainlink node not only accelerated our timeline for supporting blockchain-based markets, but future-proofs us as a data provider to changes that may occur in the industry."
About Chainlink
Chainlink is the most widely used and secure way to power universally connected smart contracts. With Chainlink, developers can connect any blockchain with high-quality data sources from other blockchains as well as real-world data. Managed by a global, decentralized community of hundreds of thousands of people, Chainlink is introducing a fairer model for contracts. Its network currently secures billions of dollars in value for smart contracts across the decentralized finance (DeFi), insurance and gaming ecosystems, among others.
Chainlink is trusted by hundreds of organizations to deliver definitive truth via secure, reliable data feeds. To learn more, visit chain.link, subscribe to the Chainlink newsletter, and follow @chainlink on Twitter.
Docs | Discord | Reddit | YouTube | Telegram | Events | GitHub | Price Feeds | DeFi | VRF
About TraderMade
Tradermade Systems Ltd. provides real-time market data and proprietary analytics software to some of the world's central banks, leading corporations, financial institutions and individual traders. Founded in 1984, TraderMade has a track record of more than 30 years of developing and supporting technical analysis solutions for the foreign exchange industry. For more information about TraderMade visit -https://tradermade.com/market-data.