Back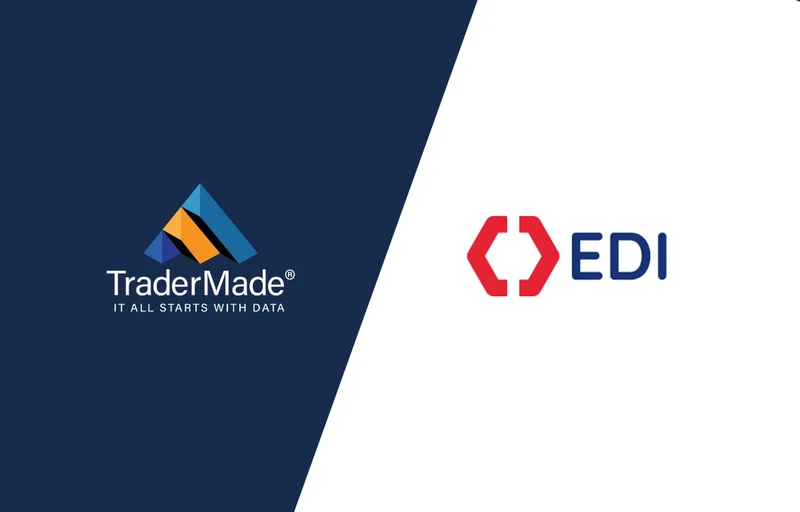 TraderMade Data Partnership with Exchange Data International
02 July 2019
---
We are delighted to announce our data partnership with Exchange Data International (EDI), a leading provider of global security corporate actions, pricing and reference data services.
With the Real-Time and Historical FX Feed, clients can obtain instant access to a comprehensive Interbank data feed covering 40+ spot currencies plus gold and silver against major currencies. The Interbank data feed is sourced from Tier-One banks & Institutions.
Historical FX Data Solutions
Our aggregated feed gives our end-users and informed view of the FX market, without any retail bias or skew in prices back to the inception of the company in 1984. Data is delivered in Open, High, Low & Close format and current users are integrating our data to identify patterns & trends within the FX markets, analyse risk, drive efficiencies & for use within AI trading and machine learning strategies. Bid/Ask Tick data is also available from 1st December 2015.
More information on EDI's data offerings Corporate Actions, Fixed Income Data & Equity Reference Data
Live FX Feeds
Ultra Low Latency & High Frequency FX data can be delivered via multiple methods. REST API is a web-based API using a web socket connection, developers and investors can create custom trading applications, integrate into various platforms, back-test strategies and build robot trading.
FIX API is based on FIX Protocol 4.4 designed for real-time, custom institutional interface which can push hundreds prices updates per second to you.
For Developers and Investors
The Real Time and Historical FX feed service is suitable for market participants who are developing their own bespoke trading platform (as used by algorithmic, black box and quantitative FX traders). As a trader, you can use it to analyse current market conditions whilst taking complete control over the process of receiving the data without any intermediary.
Jonathan Bloch, Chief Executive Officer of EDI says: "We are getting increased demand from our clients for real time and delayed data. Through our partnership with TraderMade we will be able to cover real time and delayed FX. This feed is of the same quality as some of the more expensive offerings on the market and gives our clients another and better option."
Chris Randall, CEO of TraderMade, said "We are delighted to be partnering with Exchange Data International, this will further enhance EDI's product offering within the Forex markets. Traders and developers can now analyse live current market conditions by using TraderMade's institutional-grade, transparent & secure FIX feed connection."
For more information speak to one of the team at sales@tradermade.com or call +44 (0)20 8313 0992.
About TraderMade
TraderMade is a market leading vendor of FX research, data and charting applications within the banking industry. For more than 35 years TraderMade's customers can create and execute accurate decisions using innovative software that they have specifically designed and developed for financial market participants.
About Exchange Data International
Exchange Data International (EDI) helps the global financial and investment community make informed decisions through the provision of fast, accurate timely and affordable data reference services. EDI's extensive content database includes worldwide equity and fixed income corporate actions, dividends, static reference data, closing prices and shares outstanding, delivered via data feeds and the internet. Headquartered in the United Kingdom, EDI has staff in Canada, India, Morocco, South Africa and the United States.