Forex Charting Software
From just £99 a month
Our award-winning Forex Charting Software is ideal for traders, analysts, sales traders, fund managers and private investors and implemented by more than 150 institutions worldwide.
Technical Analysis Charting Features
Our Full Featured Charting Software lets you publish your Charts and Analysis to ypur users seemlessly.
Aggregated Forex data feed from banks

Candlestick Pattern Recognition

Overlays & Correlation functionality
Want to see unbiased 3rd party rates?
Our Forex pricing is an aggregated feed from multiple banks and institutions
Want to reduce your charting costs?
We guarantee to beat your current charting costs. Talk to an adviser about cutting your costs.
Tired of slow inefficient support?
Our response times are measured in minutes not hours. Telephone, Live Chat and Email Support We pride ourselves on our customer support:
TM-Pro Forex Charting Software Features
Since 1984, we have been providing real-time market data, professional analytical tools and institutional grade forex & commodity research via our charting software. The unique TM-Pro Charting offering is a lightweight, web-delivered application; we provide technical analysis training so you can extract maximum value from the financial markets. Subscriptions also include a dedicated support team that are here to answer any questions that you may have 24/7.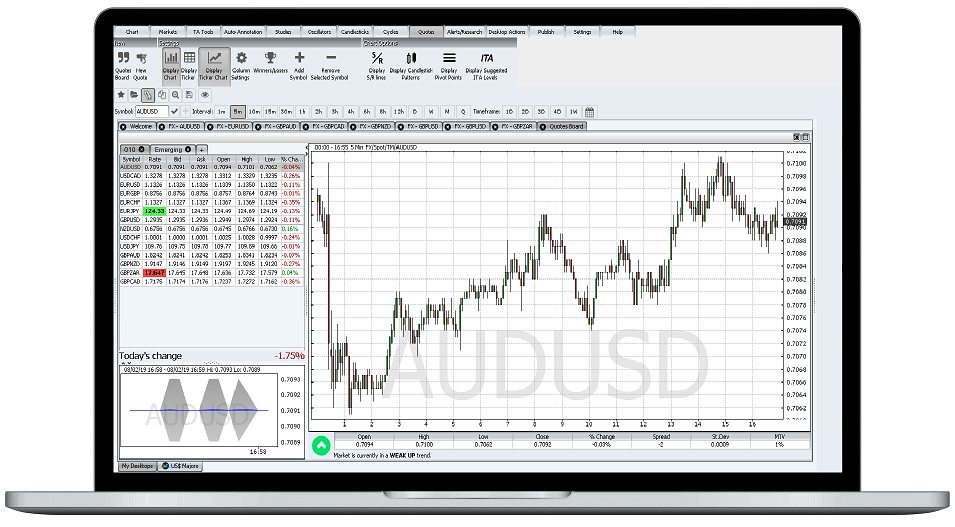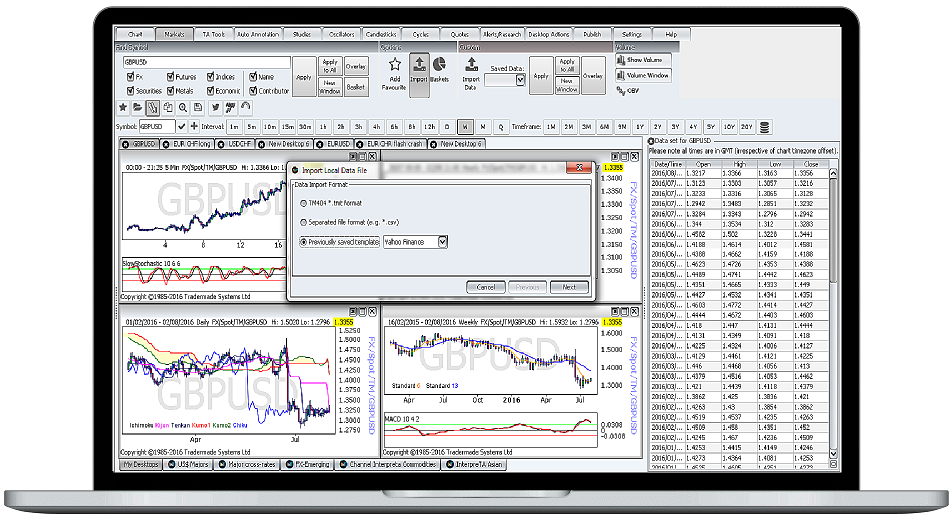 Unlimited charts
Unlike our competitors there is no restriction on the amount of charts and desktops that you can have open.
Become an expert in TA
Over 100 studies, oscillators & TA tools for you to use, we also provide technical analysis training via WebEx & articles from our experienced team.
Bespoke research directly to social media
The publishing system enables you to push your research onto various social channels. Accounts can be linked to the application and work can be saved directly as a PDF saving you precious time.
Login from anywhere
As long as Java is installed, you can use TM-Pro Forex Charting Software on any PC/Laptop as well as Apple Mac devices, so you can always be up to date with market movements.
Long historical
Live FX Data: Both Live and historical FX data is included in the standard subscription. The TraderMade feed is an aggregation of multiple sources with a two-step validation process giving you one of the cleanest available pools of data.
Trading notifications
Our advanced alert Monitoring functionality allows you to set dynamic alerts which are monitored even after you log off the system, and will alert you of broken levels when you log back in, so that you will never miss a level being broken again.
Auto Annotation
You can quickly add a selection of the most popular Technical Analysis tools by clicking one button and adding them onto your chart.
This function is especially popular with Traders and Analysts as the highs and lows are automatically caught, therefore saving you time, especially in the busy times during the day.
Candlestick pattern recognition
This feature allows our clients to accurately identify patterns in any chart that they have on our platform. Japanese Candlestick Patterns have been developed over time and are an empirically proven, sentiment based prediction of the future market directionality based on patterns found in recent market data.
Price verification
Drill-down into specific dates and times that you want across all instruments. This useful tool allows you to very quickly select specific intervals - e.g. hourly, twelve-hourly, daily etc sections of data within specific dates and plot in TM-Pro charting.
Bespoke baskets
Quickly create currency baskets, spreads, custom or weighted indices via the TM-Pro interface. You can then analyse these just like any other chart.
Real-Time price updates
Bring real-time data & portfolio management analysis into your daily work. Create and configure portfolios, then monitor with real-time updates.
Fundamental analysis
Our news feeds incorporate both a fundamental and technical perspective. Market-moving news events, announcements, speakers and technical analysis views, are all pushed into the application. Filter by currency & keywords and also pin news items onto the chart.
TM-Pro Charting is our latest technical analysis software as a service product. Deployed as a light footprint,web-delivered java application, TM-Pro Charting embodies all the traditions of previous TraderMade applications, but with improved accessibility and increased functionality.
Accurate charts and technical analysis rely upon accurate data. All of our products are powered by TraderMade data, which is scrupulously maintained and subjected to a two-stage checking and validation process. As a result, we are renowned for having the most accurate high frequency FX database with up to 35 years of records.
Frequently Asked Questions

TraderMade
© 2019 TraderMade Systems. All Rights Reserved