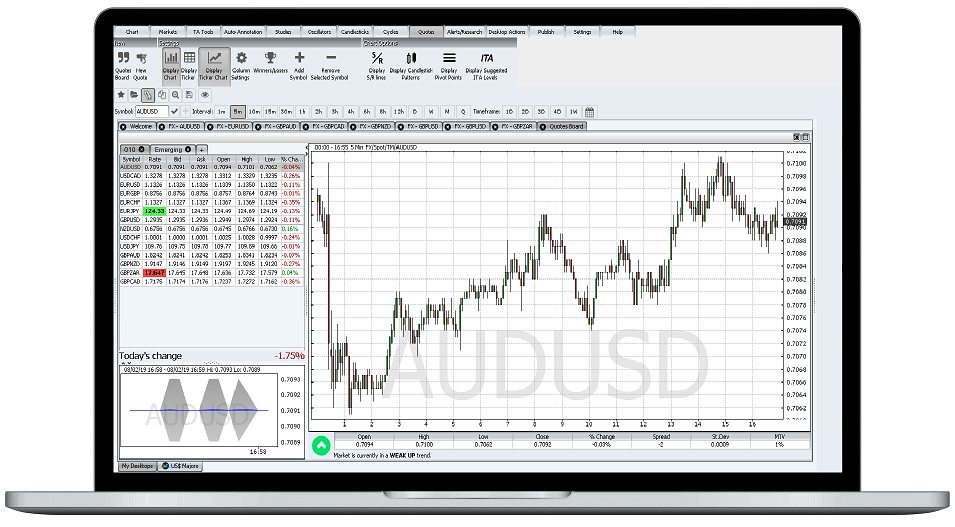 Charting Software
From just £99 a month
Our award-winning charting application TM-Pro is ideal for analysts, traders, finance and accounting professionals, fund managers and private investors and used in more than 150 financial institutions worldwide.
TM-Pro Charting Features
Technical Specification & Functionality
Supported Instruments
We provide real-time rates for over 40+ currencies, precious metals, commodities and equity indices and tons of End of Day prices at no extra cost. We are also an independent software vendor for Barchart data. So you can access up to 1000 instruments in real-time at any given time, plan for Barchart data starts from $59 a month.
No of Charts
Unlimited, you can have 100s of charts arranged in 10s of different desktop setups with TM-Pro.
Studies and Oscillators
We suppport over 100+ Technical Analysis studies and oscillators, including MACD, RSI, Ichimoku,CCI, Bollinger Bands, Stochastic, etc
Data Imports
We provide users with the ability to import and plot thier own data from files in csv format
Trading Tools
We provide users a number of additional tools to improve productivity
Price alerts that are monitored even after you log off the system
Create bespoke baskets, spreads and indices.
Publishing Charts
We provide functionality to publish and tweet chart to social media in form of an image.
Price Verification
We provide minute FX data going back as far as 1990 which is very useful for querying historical rates. Users can plot multiple overlays and query rates quickly. Users can also see stats such as mean, standard deviation and correlation
Detachable Charts
TM-Pro has detachable charts that help in a multiscreen setup
Automation
TM-Pro has a number of automated features:
Auto annotation of High & Lows
Auto picks weekly, monthly, multi-year highs and lows
Candlestick Pattern Recognition
TM-Pro enables users to identify candlestick patterns automatically over any time period. It also lets users change the parameters on which these patterns are identified
Technology
TM-Pro is a web-based Java product that produces higher quality charts when compared to HTML5 based charts
Who Uses Our Charting
Our Charting Application Is Used By A Multitude Of End-Users For Different Purposes.
The world of interpreting data has moved forward dramatically over the past decade, with the introduction of High-Frequency Trading, Algorithmic Trading and Data Scientists moving into the financial space - but having a reliable and trusted charting provider is easier said than done.
Due to the size and importance of the financial markets globally, organisations and individuals across multiple job functions need to have access to premium data for a variety of reasons. This network of Private Citizens, Commercial & Investment Banks, Central Banks, Investment Managers, Hedge Funds, Multinational Corporations just to name a few who all participate in the financial markets.
As we have seen with the large movements in all financial markets and fundamental global events and news shifting sentiment, the reason for these moves starting and stopping at certain prices may seem like chaos to you and me, but the support and resistance levels created are more than determined by the toss of a coin - they genuinely all happen for a reason.
Although the era of the traditional point and click trader is slowly becoming less popular, with more sophisticated end-users creating automated trading strategies using computer programs like Python - there is still a need to visualise a section of data onto a chart, plus also annotating ideas and publishing this analysis is still important whether you are a Data Scientist, Trader in a Bank, Dealer speaking to clients executing FX payments or a Student - data visualisation is still a very important part of any analysis.
Alongside the live FX aggregated data from TraderMade in all currency pairs, we also can integrate BarChart data into our charting software for all exchange-traded futures data too. Here are some examples of how our users our charting application;
TraderMade were ground-breaking to FX traders back in 1984 upon the creation of the company. We revolutionised the way that Traders excelled in the financial markets - and have been doing so for over 35 years
Our unrivalled features within the application allow our Traders to view live streaming prices plus and also request full data-sets using one button, the dozens of studies and oscillators allow our customers to make decisions quickly and with confidence using tried and tested technical analysis techniques. Pattern recognition and Auto Annotation tools also allow our Traders to understand price action more quickly than other providers.
Multiple news feeds are also included within the package, therefore, you'll always be on the right side of the market. Compared to our competitors, there are no restrictions on the number of charts and desktops that you can have open - therefore no restrictions and allowing our Traders to watch as many markets as possible. TraderMade users also demand superior customer service and flexible terms and conditions which we provide - we understand that markets can be turbulent and we are here to support our Trader clients.
A great feature of the application is the Publishing component within TM-Pro Charting. A big percentage of our clients are Analysts who have to work quickly and efficiently to create their views for FX and all Exchange-Traded Futures. All FX data is derived from our aggregated feed from leading institutions within the financial markets, therefore giving the cleanest data available, our Futures data comes directly from the leading global exchanges via our data partner BarChart.
Using the TM-Pro Charting, our customers can add dozens of studies and oscillators onto their charts with full annotation and highlighting features available. Larger axis and drawing aspects within the application make TM-Pro Charting the ideal application for Analysts that need to present to colleagues, managers and groups alike.
There are no restrictions on the number of charts and desktops that you can have open. In reality, this means that there are no restrictions and allowing our Analyst customers to watch as many markets as possible therefore allowing you to add more value to your customers immediately.
TraderMade also provides our charting software to Dealers that need superior technical analysis software and live pricing technology solutions so they quickly relay all relevant market-moving price action to their clients. Alongside the thousands of currency pairs, dozens of studies and oscillators, the user-friendly and intuitive set-up allow Dealers to also interrogate previously traded FX rates and answer clients questions quickly and efficiently.
With the explosion of FX Payment companies, TraderMade can also provide FX Forward Rates alongside FX Spot giving our users the complete FX coverage that they demand. We also provide a Broken Forward FX Rates calculator, allowing for Dealers to automatically break Forward Rates into Forward Rate, Forward Amount, Forward Rate & Forward Difference and this can be provided as a package alongside the charting application.
We appreciate that the financial industry, particularly in FX, has changed over the years therefore we have created idea generation research which is also used by FX Payments and Deliverable companies, Dealers use TraderMade research alongside the charting application - giving you a complete set of products and services to excel in the FX markets.
Talk to us to see how we can add value to your work and business.
Treasury professionals demand high quality data that can be interrogated so that point in time prices can be verified and analysed in further detail. Other providers cannot give the granular detail and historic depth of market that Treasurers require, their job of managing risk is therefore made more difficult due to these functionality issues. The Online version allows our Treasurer clients to log in at any time 24/7 and is not restricted by downloading on a PC/Laptop.
The TraderMade charting application allows our Treasurer clients to use our data quickly and efficiently to both view the current live streaming FX rate plus also create their appropriate studies, oscillators and line drawing to predict future movements within the FX and other financial markets.
Combine the chart with our REST, WebSocket or FIX data API's for the automation part of the Treasurer's job too. Chat with our integration specialist about how you can manage your risk more effectively by using TraderMade charting products.
Banking, Brokers and Fintech companies use TraderMade charting to add massive value to their clients via our custom integration options. Both live and historical data options are available, with all of the major studies and oscillators included as standard. Our experienced developers have led integrations with the largest financial institutions as well as start up's - therefore meeting and exceeding whatever your business goals may be.
This lightweight and cost efficient turnkey solution is designed to keep customers on your application, allowing end-users to create their own technical analysis, both increasing User-Experience (UX), Customer Service (CS) levels and trading volumes. Contact us today and speak to one of our integration experts for more information.
Frequently Asked Questions