The FOMC Hawks and Doves
The Federal Reserve delivered its first rate cut since 2008 and this has brought the Forex market to life. It is high time we look at how the FOMC members stack up on the hawks/doves scale as we head into a period of uncertainty, caused by trade wars, central banks policies and Brexit.
Before we delve deeper into what members have said and how voting rights might change Fed policy going forward, let's look at how they look currently.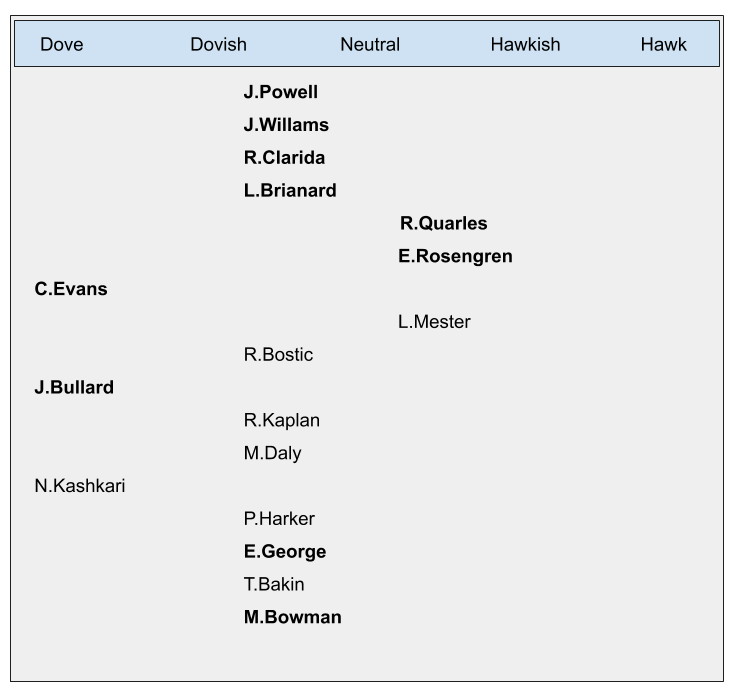 As is obvious from the graphic above, out of the eighteen members in the FOMC, Twelve members are Neutral or Centrist with E. Rosengren, R.Quarles and L.Mester leaning to the hawkish side and Bullard, C.Evans and Kashkari tilting to the Dovish side.
Out of the eighteen members in the Federal Reserve System, only ten members have voting rights. Let's see what the voting members have said lately and how this means for the monetary policy. The Fed Chair Jerome Powell at the last policy meeting has said that the rate cut was not a start of a full-scale rate-cut cycle neither it was a one-off rate cut. John Williams said that "When you only have so much stimulus at your disposal, it pays to act quickly to lower rates at the first sign of economic distress". Fed Vice Chair Richard Clarida has also made similar comments but we consider all of these three members neutral in terms of monetary policy. Esther George lately said that "we are in a good range in terms of thinking about monetary policy action" and has voted against the policy action. She is also considered a centrist.
Eric Rosengren recently said that he does want to ease if the economy is doing perfectly fine (he also voted against policy action) while Charles Evans said that "There is an argument that if I think it takes 50 basis points before the end of the year to get inflation up, then something right away would make that happen sooner" we would consider Rosengren to be slightly hawkish while Evans is clearly dovish. James Bullard is an out and out dove as he made it quite obvious before the meeting that a rate cut is coming. /p>
If we consider voting rights and what members have said then the out of 10 voting members (shown in bold in the graph) 2 members each lean to the Dovish and hawkish side with six sticking to the center which suggests that any extreme measures concerning the Fed policy are highly unlikely.
Looking a bit further out the voting right will change in 2020 with Kashkari, Kaplan, Harker, Mester gaining voting rights while Bullard, Evans, Rosengren, and Geroge losing voting rights. It looks unlikely that the mix of doves, hawks, and centrist will change meaningfully. That said, the opinions of the FOMC members can change and this could have a significant impact on the U.S. Monetary Policy.